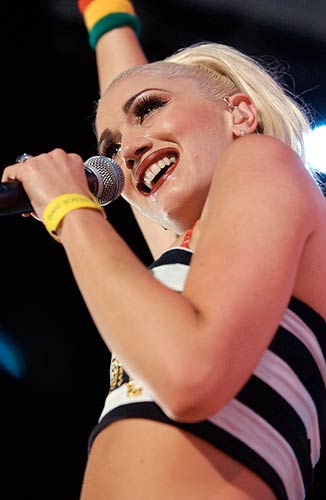 YAY,we mentioned how Gwen was being featured in VH1's "100 Greatest Women in Music" special airing all this week;now VH1 has revealed the full list,and Gwen is ranked at #13!! Much congrats to Gwen on being so high on the list-she SO deserves the recognition! The segment featuring Gwen will air on Friday,February 17th, at 10 PM EST-we will try to upload it for everyone after it airs!
VH1′s is debuting our list of the "100 Greatest Women in Music" this evening at 10 p.m. ET/PT. These five, one-hour specials are the latest in our on-going series, The Greatest, and are focused on the last twenty years of music history. Last Friday, we gave you a preview by way of our Almost Greatest list, but now VH1 Tuner is proud to exclusively reveal the entire list for you in advance of tonight's first episode, which will cover #100 (the Pussycat Dolls) through #81 (the Spice Girls).
So, what artist ended up being named the Greatest Woman In Music for their career accomplisments over the last 20 years? Read along to find out!
VH1′s 100 GREATEST WOMEN IN MUSIC
100. Pussycat Dolls
99. Demi Lovato (Watch her cover of Lil Wayne's "How To Love")
98. Ashanti
97. Grace Potter
96. Mandy Moore
95. Wilson Phillips
94. Colbie Caillat
93. Feist
92. Jordin Sparks
91. Monica
90. Regina Spektor
89. Hillary Scott (Lady Antebellum)
88. SWV
87. Robyn
86. Ingrid Michaelson
85. Faith Evans
84. Avril Lavigne (Check out VH1 Tuner's list of the The 6 Best Sets Of Devastated Raccoon Eyes In Music Video History)
83. Meg White (The White Stripes)
82. Miley Cyrus
81. Spice Girls
80. Sara Bareilles (Check out Music Seen: Sara Bareilles)
79. PJ Harvey
78. Kim Gordon (Sonic Youth)
77. Hayley Williams (Paramore) (Watch the Pop Up Video for "Misery Business")
76. Leona Lewis
75. Kim Deal (The Breeders, The Pixies)
74. Paula Abdul
73. Dido
72. Brandy
71. Natalie Merchant
70. Macy Gray
69. Courtney Love
68. Indigo Girls
67. M.I.A.
66. Natasha Bedingfield (Watch video of Natasha discussing how Eminem helped her out with her Nicki Minaj collaboration)
65. Liz Phair
64. Eve
63. Jill Scott (Watch Jill perform "Hear My Call" at VH1 DIVAS LIVE 2011)
62. Leann Rimes
61. Shirley Manson (Garbage)
60. Florence + The Machine
59. Destiny's Child
58. Miranda Lambert
57. Ke$ha
56. Gloria Estefan
55. Fiona Apple
54. Tori Amos
53. Sarah McLachlan
52. En Vogue
51. Nelly Furtado
50. Lauryn Hill
49. Amy Lee (Evanescence)
48. Aaliyah
47. Kylie Minogue
46. Toni Braxton
45. Lil' Kim
44. Erykah Badu
43. Taylor Swift (Watch Taylor Swift Can't Believe It, a collection of her best surprised faces)
42. Melissa Etheridge
41. Jewel
40. Nicki Minaj
39. Dixie Chicks
38. Salt N Pepa
37. Faith Hill
36. Shakira
35. Shania Twain
34. Queen Latifah
33. Norah Jones
32. Fantasia
31. Cher
30. Sade
29. Bjork
28. k.d. Lang
27. Fergie
26. Amy Winehouse
25. Sheryl Crow
24. Jennifer Hudson
23. Carrie Underwood
22. Annie Lennox
21. Celine Dion
20. Rihanna
19. Kelly Clarkson (Watch Kelly perform "Stronger" at VH1 DIVAS LIVE 2011)
18. Missy Elliott
17. Katy Perry (Watch Katy accept VH1′s 2011 Song Of The Summer prize)
16. Jennifer Lopez
15. Alanis Morissette
14. Alicia Keys
13. Gwen Stefani
12. TLC
11. Britney Spears
10. P!nk
09. Mary J. Blige
08. Christina Aguilera
07. Janet Jackson
06. Whitney Houston
05. Adele
04. Lady Gaga
03. Beyoncé
02. Mariah Carey
01. Madonna
Don't forget to watch the 100 Greatest Women In Music special on VH1 each night this week at 10 p.m. ET/PT. #100-81 will air on Monday, 2/13; #80-61 will air on Tuesday, 2/14; #60-41 will air on Wednesday, 2/15; #40-21 will air on Thursday, 2/16; #20-#1 will air on Friday, 2/17.