Today we're starting something new here on EIT! It's the Featured Fan section! This is the opportunity for you to tell us, all the other fans and even the band (since they visit EIT frequently) a little more about yourself and your No Doubt experiences! This way you can connect with more fans from your area and even worldwide! If you want to be the next Featured Fan, please contact us via e-mail at eit.nodoubt@gmail.com . We would love to share your stories!
To start in grand style, our first featured fan is a good friend of ours, Bob Callan! Here's our little interview with him!
Name: Bob Callan
Tell Us A Little Bit About Yourself:
I grew up in Anaheim. Went to Magnolia H.S. which is one school over from Loara H.S. where Gwen attended. I had heard of No Doubt but in my high school days I was listening to metal & rock until about my junior year 1985 I was starting to listen to New wave and punk, pretty much everything. I remember hearing Trapped in a Box and instantly became a fan. I think after that I heard Just A Girl and I was hooked. I loved the many voice ranges of Gwen and the style of music.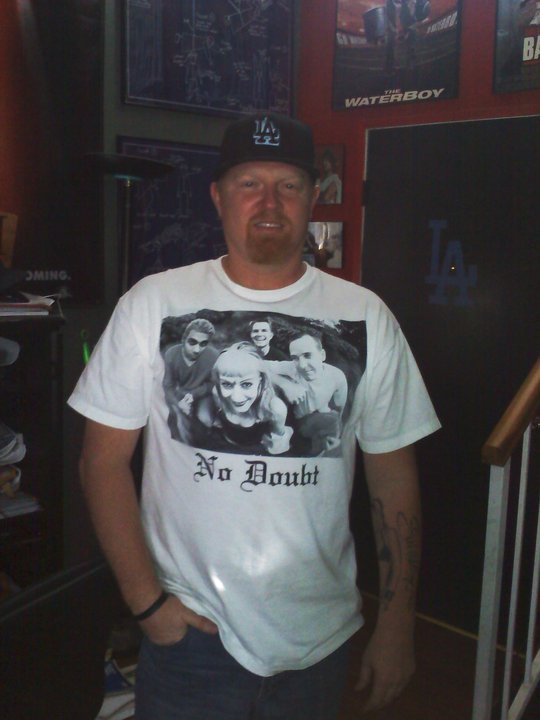 How Did You Become A Fan?
Well after hearing those first 2 songs I saw Gwen, which made the music even that much better, I loved the way she dressed,preformed,sang and mostly her stage presence. I never really saw a girl who acted the way she did on stage. Such a great performer.
What Is Your Favorite No Doubt Memory?
My favorite No Doubt memory was on 8-8-09. I had brought a poster with me to the last of 8 concerts I attended on this tour. The concert was in San Diego ( Chula Vista). The poster read "Gwen please sign my tattoo". I had rented a hotel nearby, we rented a taxi to pick us up, we were on our way to the show when my friends wife said Bob you forgot your poster. So we went back to get the poster, we had driven about a mile. I was in the pit about 40 yards (12 rows) from the stage, holding my poster above my head whenever I thought I could catch Gwen's attention. With about 5 songs left in the concert Gwen saw my poster & asked through the microphone "is it a No Doubt tattoo" I replied "Yes" & Gwen says " I will sign your tattoo if you can make it up here by the end of the show  but only if it is a No Doubt tattoo". I made it to the third row in the pit by the time the song was over. Gwen says " Let me see the tattoo " I showed her & she told the bouncers get him up here. Two bouncers, one on each side both grabbed me by my belt and lifted me over the two rows of people who wouldn't let me through and over the gate. So I climbed up what looked like milk crates used as stairs and Gwen showed the crowd my tattoo and the cameras displayed it on the big screens. Gwen asked " Do you have a marker? " I said '"yes" ( I brought two sharpies with me just in case I had lost one).  Gwen asked " do you want it small or large " I replied " Large because I am going to tattoo it ". Gwen signed my arm and asked to see the tattoo again, when I held out my arm she pointed and said " that rock's ".  I told Gwen this is my eighth concert on this tour I have been too, so Gwen then gives me a hug,and I dropped my poster, people asked me how she smelt and my first reply was " like Heaven". As I am making my way down stage Gwen picked up my poster and said " can I have this " I told her yes. As I am climbing down the makeshift stairs the crowd is telling me to turn around and as I turn Gwen is signing my poster and then hands it to me. 
What Is Your Favorite Era?
I love it all but if I had to choose I would say the Tragic Kingdom, since this is my favorite album.
What Is Your Favorite No Doubt Song?
Hmmmm. So many good songs. Here are a few of the not so obvious songs I love: Running, In My Head, Stricken,Everything In Time and I Throw My Toys Around. After all this I would say Underneath it all comes in 2nd but Hella Good would be #1…
What an amazing moment Mr. Bob! It's so inspiring and exciting! All of your tattoos are brilliant! Congratulations on your adventure with No Doubt, I bet it will inspire a lot of fans out there!
Soon we'll have more Featured Fans here on EIT. The next can be you!