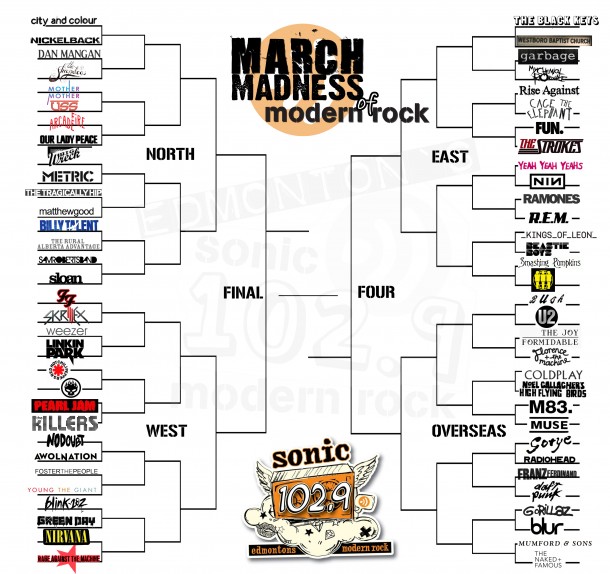 Radio station Sonic 102.9 in Edmonton,Alberta,Canada is holding a March Madness of Modern Rock bracket vote,and No Doubt is one of the bands in the running! They are in the West division and are up against Awolnation in the first round-right now No Doubt is in the lead with over 66% of the vote. Voting for each matchup ends the very next day at 10 AM local time,so be sure to vote TODAY for No Doubt and spread the word to any fans you know. The tournament ends on April 3-let's help No Doubt advance to the next rounds and be named the winner! And of course,be sure to keep voting for No Doubt in MTV's March Madness tournament-they are winning against Van Halen in the first round,voting for which ends at midnight EST tonight.
VOTE FOR NO DOUBT IN SONIC 102.9'S MARCH MADNESS OF MODERN ROCK!!!
64 Bands – 17 Days – Your Votes – 1 Winner
Welcome to the inaugural Rick's March Madness of Modern Rock. From March 15th to April 3rd, 64 bands will battle it out in 4 regions – North (Canada), West (US), East (US), and Overseas.