As we mentioned earlier,Gwen was shooting a new L'Oreal commercial this week in France. Now ELLE.com has a new interview with Gwen where she talks about the shoot(it was 12 hours long!) and the inspiration behind her look for the new campaign-turns out it was inspired by her May ELLE cover. It sounds amazing and we cannot wait to see it! According to the article,the new campaign will debut in September-interestingly,the article says the new No Doubt album will be out at the same time! We hope! Gwen also talked about wearing a custom L.A.M.B. gown to the amfAR Gala tonight(she looks gorgeous!!) She said it was a lot of work but that she wanted to wear L.A.M.B. so that she can auction it off-how nice and charitable of Gwen!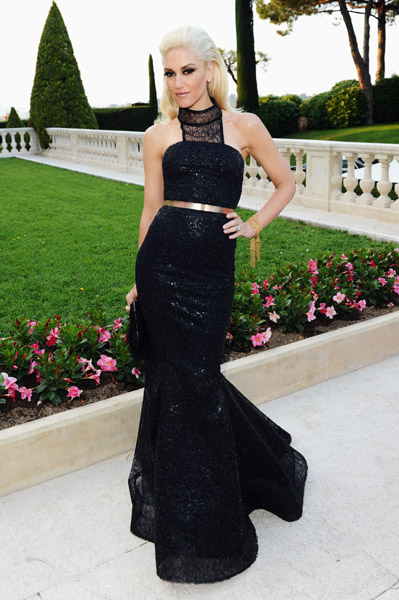 Gwen Stefani's in Cannes for a few reasons—sun, food, family fun—but the pop icon's first order of business was shooting her third and latest commercial for L'Oreal. Yesterday, she spent twelve hours filming on a yacht, in a villa, and against an eternity pool (she swears she only got tired around hour 10).
The campaign won't debut until September (when No Doubt's new album hits shelves), but she did offer one great hint after lunch this afternoon when I mentioned ELLE's May cover.
Though no one does a red lip quite like Gwen, the nude she wore on the cover was a big hit in our office—as well as L'Oreal's. She said, "That's what L'Oreal was really inspired by! We wanted that look for the commercial so we did a version of that—with the hair. I loved that hair; I was always very much into Bewitched and a Samantha look."
As for tonight's look, when she heads to Hotel du Cap for the annual AmFar gala, she'll be wearing a dress of her own design. "I haven't made very many couture gowns—it's a big process and a lot of work and it's a lot of pressure because there are so many beautiful gowns out there that I could wear, but I really wanted to make something with L.A.M.B. because I really wanted to auction it off," Stefani said.
Check back Monday for our full report from Cannes!