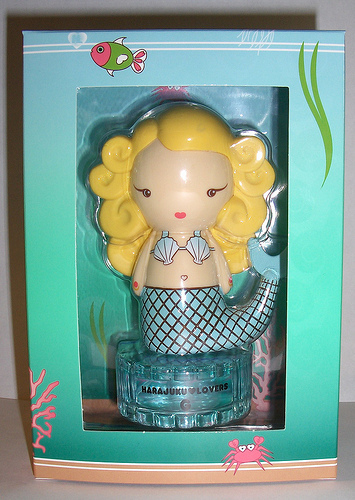 The rave reviews keep coming in for the Harajuku Lovers 'G of the Sea' fragrance! Earlier we mentioned how the scent is Teen Vogue's #2 Beach-Inspired Beauty Pick in its June issue,and it has been named one of the Top 11 Summer Scents to Get Your Hands On this year by RealBeauty.com. Congrats to Gwen and her HL team on their latest fragrance being such a success!
Whether you're spending summer on the beach, poolside, or just want to smell like a vacation getaway in your cubicle, we've got the top fragrances to stick your nose under this season.
Harajuku Lovers G of the Sea
Aside from the absolutely adorable bottle, this limited-edition scent will leave you with notes of crisp apple, water lilies, and crushed berries. So that's why everyone wants to catch a mermaid.