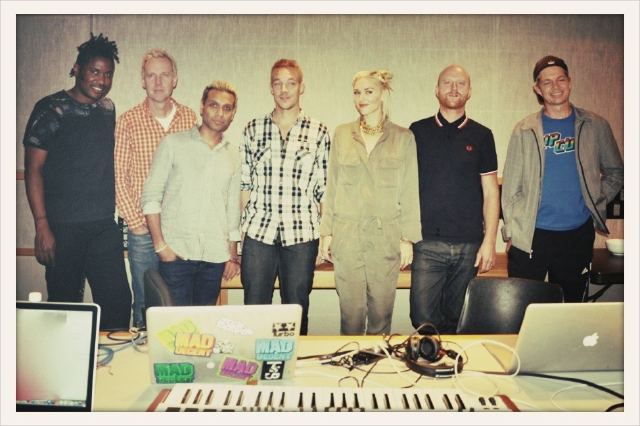 This is an interesting development-in a new interview with Triple J,Diplo,one-half of the electronic group and production team Major Lazer,revealed that No Doubt will be appearing on Major Lazer's upcoming album,which will be released in March of 2012. As fans know,No Doubt had tweeted about working with Major Lazer in the studio this past summer,but it had been assumed that their collaboration was for the new No Doubt album. We will continue to keep you updated on any further developments.
Major Lazer's new album will feat. No Doubt, Vampire Weekend, Dirty Projectors and more
Diplo, who collaborates with Switch to make Major Lazer, opened up to triple j at Parklife about their upcoming album.
"We have a single coming out next month in October and then the album will come out in March and it's the most amazing record of all time, ever.
We have Vampire Weekend feature on it, Dirty Projectors, Vybz Cartel, Beanie Man, Busy Signal, No Doubt… it's crazy."

UPDATE-Thanks so much to our good friend Anne from justnodoubt.net for finding and sharing,in another recent interview with The Vine,Diplo says that Major Lazer's collaboration with No Doubt WILL indeed be on the new No Doubt album,which is what we originally thought anyway. Apparantly either Diplo misspoke in that Triple J interview or was misunderstood by the interviewer. We apologize for any confusion.
The Vine: So have you gone back to get a whole lot of Jamaican kids or semi-unknowns [to the mainstream] for this new record as guests?
Diplo: Being unknown is relative you know. With a lot of people and Jamaican music, their knowledge really doesn't extend beyond Sean Paul. There's a lot of classic reggae dudes like Elephant Man, Beenie Man and some newcomers like Mystik that don't get as much notice…but a lot of the new record is pretty cool.
We've got Lykke Li on one track, we've got Vampire Weekend, the guys from Dirty Projectors…some other surprises. We did some stuff with the guys from No Doubt that will end up being for their album, but it was cool anyway. So it's kind of ended up being reggae but in a really weird way, like from the future or whatever.