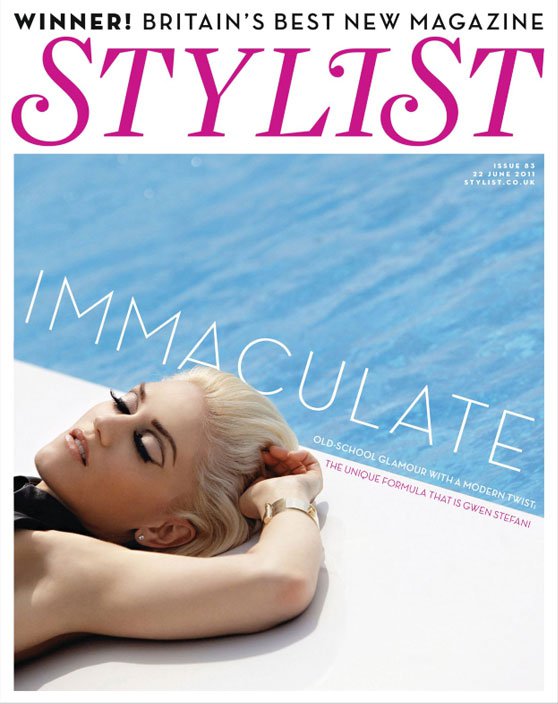 Yesterday we mentioned how UK magazine Stylist had put together a lovely photo gallery of some of Gwen's career-making moments,and now it's been revealed that she is on the cover of this week's issue of the magazine(the photo used is one of her new L'Oreal campaign shots),and there is a new interview with her in it! Gwen talked to Stylist last month in Cannes while she was shooting her new L'Oreal commercial-it's a fascinating interview where she talks about everything from fashion to the challenges of balancing career with family.Hope UK fans are able to pick up a copy!
Meeting Gwen Stefani in a Cannes penthouse might sound over the top but, as we discovered, it's the perfect backdrop for a seriously stylish icon.
Cannes Film Festival – all super-yachts, mahogany tans and endless champagne schmoozing – seems an unlikely place to interview the doyenne of rock and trail-blazing fashion rebel Gwen Stefani. Yet here I am (the day is 12 May) in the penthouse of Hotel Martinez. Today this lavish sea-view suite is host to L'Oréal Paris' artfully selected spokespeople – and boasts Stefani as its latest recruit. As you'd expect, it's brimming with glamour. Fellow face of the beauty brand and Grey's Anatomy star Patrick Dempsey, suitably dressed in a beige linen suit, unbuttoned shirt and Ray-Ban aviators, is busy arranging himself on a nearby sofa. Out on the balcony, under the searing azure sky, the heart-stoppingly beautiful Freida Pinto of Slumdog Millionaire, sundress billowing in the warm breeze, totters about in heels so high they threaten to dwarf her.
The atmosphere is relaxed, but there's a mounting sense of anticipation in the air. It's the kind of loaded silence that occurs the moment before the curtain rises and the show begins. Then, right on schedule, Gwen Stefani emerges from her room, statuesque in a black one-shoulder jumpsuit, a dais for her china-doll pale skin, trademark red lips and, of course, a pair of huge, dark sunglasses. It'd make for a pretty intimidating entrance, were it not for the genuine, warm smile etched across her face.
She's in Cannes to film her new TV ad for L'Oréal Paris and has spent the remainder of her time under the flashbulbs of the red carpet. And it's patently clear that, for Stefani, a public appearance isn't a matter of a quick brush of mascara and swipe of lipgloss. No, she rather admirably comes from the old Hollywood school of beautifying: if you're going to do it, do it properly. But after almost two decades in the spotlight, doesn't it all get a bit tiresome? "It never gets old," she insists, her sugary LA lilt belying her 41 years. "I'm a girly girl, I love getting dressed up. I could do it all day long – I've been doing it since I was a little girl."
Stefani is quick to name-check the team behind her look, crediting a collaborative effort for keeping her at the top of the fashion pack. "One of the main reasons I signed with L'Oréal was because of the creative team, they have such artistic vision."
"When you start out being on magazine covers, there's so much politics. You're like, 'Wait, I don't wear lavender, that's not what I do"
Yet Stefani has more than earned her own fashion stripes, having immersed herself in the late Nineties skate scene, the cultural melting pot of Japan and its Harajuku girls – which provided the inspiration for her solo debut album, Love Angel Music Baby in 2004 – and L.A.M.B., her fashion label of the same name [reports put the company's annual gross income at $90 million in 2007]. Stefani's empire compromises fashion, accessories and even a range of perfumes, produced in collaboration with Coty Inc in 2007.
"For me it's one of the most prestigious things a designer can do," she said at the launch of her first fragrance, L. "It's just another thing that I can creatively be a part of."
Stefani's fashion choices may be couture now but they began in adolescence, sat at her sewing machine in Anaheim, Orange County, California. "I didn't know anything about fashion when I was a teenager," she tells me.
"It was something I couldn't touch, growing up in Anaheim. I'd never even look in fashion magazines because for me, that was just a stuck-up world over here [throws her hands up to the left] that I could never reach. I was like the funky little girl – I made my own clothes," she recalls, her jet-black lashes fluttering behind the dark shades. "But then, as the years go by, I got to meet amazing designers like Vivienne Westwood. She inspired everything I liked and everything I didn't even know I liked. The first designer piece I ever bought was a beautiful Westwood corset. It cost all my money and I wore it in the Spiderwebs video. I still have it now."
In a sea of pop-puppets, Stefani has successfully maintained her sense of self. Clothes horse she is not. "When you start out being on covers of magazines, there's so much politics that – as a little girl – you just don't know about. You don't realise that they need to get these different brands on you, and you're like, 'Wait, I don't wear lavender, that's not what I do.' But that's the fun thing about success: the freedom you get and people learning to trust you and being inspired by you. Earning and getting that control."
Creative Force
Three days before we meet, Stefani walked the Cannes red carpet in a plunging Stella McCartney dress, prompting some media pundits to question the propriety of revealing that amount of flesh past the age of 30. Stefani looked (as usual) flawless but in any case, the debate proved she's still a key player on the global fashion stage.
With an idiosyncratic approach to dressing, she's been fielding questions about her style for most of her life. "It's something I don't really like to talk about because it's something you just do. It's ever-evolving, y'know?" Speaking at 10 to the dozen, she regularly concludes statements with an endearingly familiar 'y'know?' or a 'y'know what I'm saying?', bringing to mind the cool girl at school who everyone wants to emulate.
"Just doing it" is the same way they've approached the new No Doubt album [rumoured to be due out later this year] – though make no mistake, the group is not getting back together. They never split up. "It was never a break-up," she says firmly. "It was always going to happen. We never stopped for all those years, but after Rock Steady [No Doubt's fifth album in 2001], everybody was ready for a little time off." Time off that somehow escalated into Stefani's solo career, although she protests: "It was more about making a dance record, I didn't even think of it as a solo opportunity. It was more of a creative project. I wasn't even going to tour but it was so amazing, how can you resist?"
"It was all just too much output – even kids were coming out of me! Harajuku girls and clothing lines, how could I give any more?"
After completing her second solo effort, 2008's The Sweet Escape, she was to take on an even bigger challenge. "I came off the tour, got pregnant that month with Zuma [Stefani's two-year-old son with husband, Gavin Rossdale; their older son Kingston was born in 2006]. And then we started writing as a band again and nothing was happening. It was all just too much output – even kids were coming out of me! Harajuku girls and clothing lines, how could I give any more?" she giggles.
Does she feel as though her creativity is stymied by the everyday pressures of life? "I totally get blocks. Every time. Gavin always laughs when I'm crying, he says 'that's what you do every time, it's part of your process,' and I'm like, 'I don't know what you're talking about'. And then you realise it's happening around the same time every month…" Another giggle. "That's when we decided to just go on tour, to feel like a modern band again. We didn't even think about whether anyone would show up to watch us, but within a month and a half, we were playing for 20,000 people a night. It was our first time on stage together in five years. It was so rewarding to watch your children on the side of the stage singing No Doubt songs that were so personal, I was like,'Oh my God!' I was teary-eyed every night."
As Stefani talks, it's difficult not to be hypnotised by her geometrically precise bloodred lips and Warhol-perfect white teeth. She's a visual feast: part-manga cartoon heroine and part-polished Fifties housewife. Hers is a high-maintenance, maximalist type of beauty. The look is completed with smooth porcelain skin and that shock of platinum blonde hair. She's had that shade for over 20 years and you'll never see her with roots (it's topped up every fortnight with L'Oréal Préférence Shade 10).
Because she's managed to stay at the forefront of music and fashion, it's easy to forget that Stefani's been doing it for almost two decades. The second of four children to an Italian-American Roman Catholic father, Dennis and Irish-Scottish mother, Patti, both of whom she's still "tight with" (Stefani was immersed in the music of Bob Dylan and Emmylou Harris). She joined big brother Eric's band No Doubt at the age of 17 (he later left the band to pursue a career as an animator on The Simpsons) and quickly became the anti-role model for teenage girls everywhere who felt disconnected from the boybands and pop fakery that proliferated the charts at the time. Girls who instead sought out the bubbling subcultures of ska, punk and skateboarding.
Staying Power
"We started the band because of English ska music," she explains. "Everything I loved was all part of this English invasion and it was a different perspective – there were no girls in rock bands in the US at the time. The only other girls were folky like Jewel or L7 who were like, grungy and raaaaaargh! So I was sort of somewhere in between."
Did being singled out for her gender ever bother her? "I did think about those things. On stage guys would shout, 'Get your tits out' and I'd be like 'What tits?'" she says, looking down, arms outstretched. "It didn't matter. I don't know why but we could get people going and just had this confidence. I don't know where it came from, probably from the music."
It's the music that she had to thank for introducing her to her future husband, Bush frontman Gavin Rossdale. "When we first started touring with Bush [in 1995], they were already so huge. We'd only just come out and only got the gig with them because we were on the same label and they forced us to – thank god they forced us to!" she exclaims, that red-rimmed smile widening further. Having withstood a bout of scandal [in 2004, a paternity test revealed that Rossdale was the father of model Daisy Lowe who he'd fathered with singer Pearl Lowe before he met Stefani], their relationship is considered to be one of the more stable marriages in Hollywood – which is no mean feat after 16 years together.
"We started the band because of English ska music. Everything I loved was all part of this English invasion…there were no girls in rock bands in the US at the time"
What with Gavin, their two boys and the band [Tom Dumont, Stephen Bradley, Adrian Young, Gabrial McNair and ex-boyfriend Tony Kanal], Stefani seems to have inadvertently built a wall of men around herself. "I'm surrounded by them! It's really weird, I don't know how it happened. I don't think about it a lot but I do notice it when the only girlfriends I've ever really had are the girlfriends of the guys in the band. Thankfully they chose good girls because I have to hang out with them. They hate me sometimes because I don't have the time. I'm like, 'I'm sorry, I have to see my son today', so it can be really hard."
I get the impression that Stefani is very attuned to the possibilities and limitations of time. She's already packed more into her life than people twice her age. "Why have regrets?" she says. "Everything that's going to happen to you is going to happen. Even with my family, I don't want to look back and say, 'Oh my god, I didn't sleep with Zuma that time because I was too tired,' so I'll just snuggle up with him tonight. It's probably why I work as I hard as I do – I don't want to look back and see the things I didn't do." The flipside is that she doesn't deal well with taking time out.
"There's never any downtime, but when there is, I feel like I'm panicking a little bit or trying to plan the next thing. Which is weird because I always thought I was kind of lazy. In my mind all I really want to do is eat a pizza in my bed."
The next chapter
It might be what she wants to do, but her toned arms, perfect shoulders and washboard stomach are proof that pizza is a rare treat. In fact, Stefani's body, legs outstretched in front of me, is as hard as iron. I reason that must be down to an intense love affair with the gym. Apparently not. "I have a love-hate relationship with working out. If I don't do it, I don't feel good and if I do, I hate doing it." She swerves the kitchen too; "Gavin's amazing, he does all that. He's incredible, he's like a chef." It's the bedroom where Stefani feels the most relaxed. "I love the bed. It's that moment in bed, that cuddle, watching a movie or kind of pretending you're watching a movie. The bed is like… there's nothing else."
Leafing through the endless paparazzi pictures from Cannes after our interview, it's Stefani who catches the eye in a sea of interchangeable Hollywood dolls. In the tanned, plastic LA landscape, she stands out too: assuming the position of the coolest girl in school with her trademark locks and scarlet lips. It works because it's natural. It's just who she is and she's comfortable with that.
And that's the thing with Gwen. She's one of the few celebrities – alongside Gaga, Beyoncé, Angelina or Oprah – that you can't just neatly shove into one box: fashion plate, music-maker or A-list mother. She's all of those things. But she's also a lot more. Rather than fade away, she's still out there, challenging the scene and challenging herself. That's why women everywhere are still rooting for her.