Thanks to Victoria for sharing a scan from the new issue of US Weekly featuring photos and prices of the some of the Harajuku Mini for Target clothes! The plaid jumper costs $20,the canvas sneakers are $17,the mini biker jacket is $20,and the black corduroy pants are also $20. The article also quotes Gwen as saying about the line,"I couldn't be happier with it!" Can't wait for November 13 to arrive!!
UPDATE: Prices of more of the clothes and accessories were revealed in Gwen's November InStyle cover article:
Polyester coat with faux fur($30),polyester rayon dress($25),and polyester headband with plastic($7).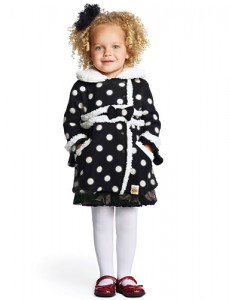 Corduroy jacket($25),cotton-nylon shirt with polyester-rayon bow tie($7) and polyester-rayon pants($20) and hat ($10).

Faux-leather jacket($25) and cotton twill dress(($25).