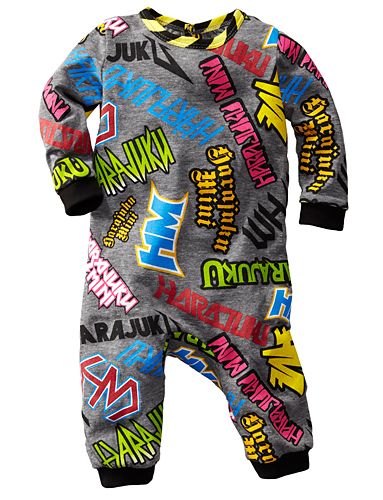 The complete lookbook for Gwen's Harajuku Mini collection for Target was released yesterday,and the rave reviews have been pouring in-check out some of them below!! We are so thrilled for Gwen and her Harajuku Mini team on the much-deserved praise for the absolutely AMAZING collection and wish them the very best when the line launches on November 13!
From The Daily Mail:
It's the most hotly-anticipated Target collaboration since, well, Missoni's last month. Now the full lookbook for Gwen Stefani's Harajuku Mini childrenswear line has been revealed.
The collection, which goes on sale on November 13, looks set to be as much of a hit with kids as it is with stylish parents.
It is high on fun, with ballerina-style tutus, polka dots and fuzzy hoodies complete with animal ears
Like much of the singer's fashion merchandise, motifs are Japanese-inspired, though elements such as tartan, skinny jeans and chequered flag-inspired trims lend a punk-style aesthetic that is rarely present in childrenswear.
It is, however, evident in the way she dresses her boys Kingston, five and Zuma, three, who both already display a keen sartorial instinct.
Kingston counts a blue mohawk and biker boots as part of his past fashion experiments, while Zuma has been sporting painted nails and legwarmers of late.
They aren't the only ones likely to be impressed by the Harajuku Mini line. Given Ms Stefani's friendships with Angelina Jolie and Gwyneth Paltrow, we may also be spotting her designs on the backs of their children too
Target's non-famous fans will be relieved to learn, however, that prices for the collection, for kids aged one to 13, will be easy on the pocket, ranging from just $3.99 to $29.99.
And those worried that it will sell out as quickly as the Missoni line, will be reassured to know that the star is also working on a follow-up collection, due to hit stores in January.
From HollyBaby:
Gwen introduces her clothing line for kids, Harajuku Mini and it's filled with must haves for your little bundle of joy!
Gwen Stefani always keeps Kingston and Zuma in the cutest and most creative outfits — maybe that's why she created the over-the-top, retro and edgy Harajuku Mini, repectfully dubbed after it's mother clothing line Harajuku Lovers!
The collection, sold only at Target, is filled with the coolest clothes! From cute, animal onesies for infants, to printed graphics and tutu skirts for toddlers, and skinny jeans and top hats for tweens, the Harajuki Mini collection has all the essential items to keep your kids looking fun and fabulous everyday!
We think the Harajuku Mini collection is so cute we want it for ourselves! Check out the full collection!

From Fashionista:
Gwen Stefani's children's line for Target won't hit stores until November 13, but we just got our hands on the full look book so you can peruse what may be the most unique collection of clothing ever designed for those under the age of four.
Your kids may not understand what Harajuku means, but unless they possess the rare sophistication of Suri Cruise, they will probably love these clothes because they look like what an overstimulated child would pick out if left to his or her own devices. The line, which caters to infants, toddlers and tweens, is halloween costume-meets-ballerina-meets-schoolgirl. While your baby might get some weird looks for wearing a pink/floral/striped tutu with legwarmers or sweatpants with giant bunny ears on the butt, the clothes are, for the most part, practical and appropriate.
So, click through for all the clothes and accessories that Nicki Minaj is totally wishing came in her size.
From HuffingtonPost:
Months after the announcement was first made, Gwen Stefani's kids line finally has a lookbook! And surprise, surprise: the stuff is super cute.
Harajuku Mini for Target, a spin-off of Stefani's other Harajuku-inspired line, features all sorts of punky, plaid gear for toddlers through tweens. Our favorite: the infant onesies with actual animal ears and tails.
It's an easy, affordable way to get your kids looking as cool as little Kingston and Zuma, Stefani's sons who've walked the runway with her and often sport mohawks and other fun, un-kiddie hair 'dos.
Harajuku Mini for Target items, of course, do not come with mohawks included.
The super-cool kiddie threads will hit Target on November 13. Check out the full lookbook with all 50 styles below. Would you dress your kids in the styles?