Check out some photos of Gwen onstage with Prince at last night's concert at the LA Forum,thanks to Kristen for sharing them on facebook.Hopefully some HQ photos will turn up online soon-Gwen looked GORGEOUS!(Looks like she was rocking a Fall 2011 L.A.M.B. design.)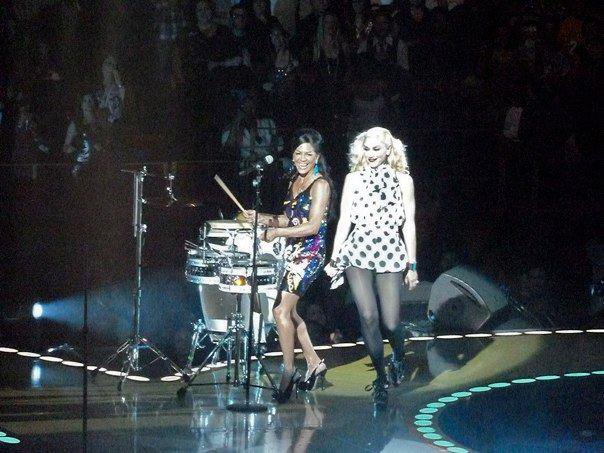 Here are even more pics and an article,thanks to DrFunkenberry.com:
This past weekend partying with Prince was just awesomesauce! I mean, even Gwen Stefani, Gavin Rossdale, all of No Doubt, Kirstie Alley and her "Dancing With The Stars" partner Maksim Chmerkovskiy had to party with him as well.
Gwen Stefani performed with Prince, which you can see HERE and then her and the entire No Doubt band including her husband Gavin Rossdale danced on stage. OK, Gavin not so much but Kirstie and Maksim were dancing on that symbol stage like it was an elimination round on Dancing With The Stars.
The fun did not stop there. On the 7th night of Prince's record-breaking 21 night run at the Forum, he had one of his classic after show's there. Before the fun started, Kirstie and Maksim were having fun dancing anywhere and everywhere, even doing dance break-downs.
They left before the after show but not before I talked to Kirstie about doing a story on her. Kirstie is looking great and I was a fan of her run on "Cheers" and not really a fan of the Sam & Diane run. Sorry, Woody. Adrian was at the after show for about a minute with his beautiful wife Nina. I didn't see much of No Doubt.