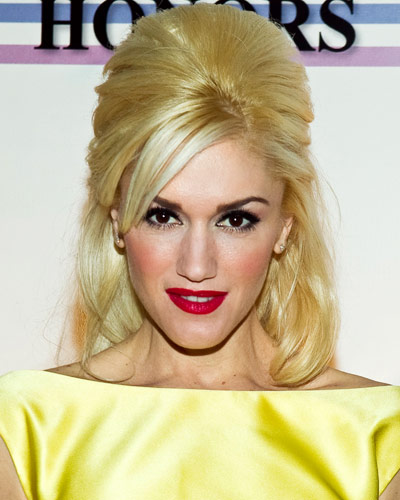 This is interesting: According to The Hollywood Reporter,Gwen is hosting a "Family Day" fundraiser at her Beverly Hills home on August 12 with First Lady Michelle Obama in support of President Obama's re-election campaign. The article states that a family of four can join the First Lady and Gwen for a day of child-friendly campaign fun for $1,000. There is more info here-it mentions that "members of No Doubt" will be among the guests,so it's possible the whole band will be there. Sounds like it will be quite an event-hope Gwen and everyone in attendance have a wonderful time!!! As most fans know,President Obama listed No Doubt's "Different People" as one of his top campaign event songs earlier this year and of course the band performed for the Obamas at the Kennedy Center Honors in 2010.
If ever there was an organization whose creativity matched Hollywood's, it's the Obama reelection campaign, and just to prove it, Michelle Obama is teaming up with singer-fashion designer Gwen Stefani for a novel "Family Day" fundraiser.
The event is set for August 12 at the singer's Beverly Hills home. A family of four can join the First Lady and their hostess for a day of child-friendly campaign fun for just $1,000. A $5,000 donation gets mom, dad and the presumably Democratic kids additional face time with Michelle and Gwen—a kind of progressive play date.
The Orange County-born and educated Stefani has two young children of her own with English singer Gavin Rossdale. She has recently moved decisively into activist philanthropy, donating $1 million to aid children touched by the recent Japanese earthquake and tsunami. She also has staged a series of online auctions of vintage items from her own fashion forward wardrobe to benefit various children's causes.
UPDATE: There had been some confusion among fans interested in attending the fundraiser as to whether or not it is required that guests bring children to the event,and now the Obama campaign has confirmed that each group of four attendees must indeed include at least two children-thanks to Monica for sharing the e-mail she received from the Obama Victory Fund:
Hi Monica,
Thanks for your interest. This event is for children and their families only. We appreciate your understanding. Each group of four must include at least two children for planning purposes. Please send us the names and birthdays for everyone in your party so we may organize events and activities accordingly.
Thank you again,
Obama Victory Fund