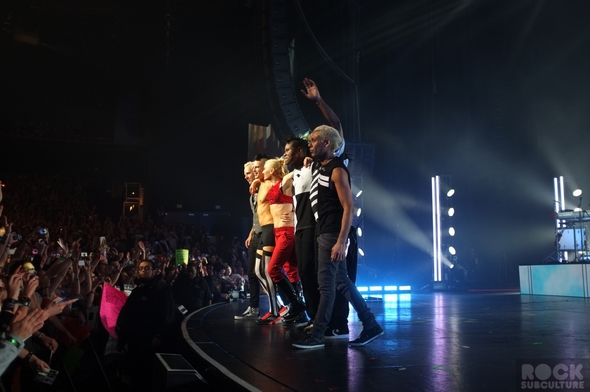 Thanks to Jason Debord of RockSubCulture for sharing his awesome review and photos from the Night 6 Gibson concert:
"You're singing the words to the new songs… I can't express… how happy I am that it touched you and connected to you… thank you for that… it's the greatest feeling ever." Gwen Stefani taking a moment (one of many) to chat with her fans at the sold out show at the 6,200 capacity Gibson Amphitheatre in Universal City – the sixth of seven special residency shows running late November through tomorrow. Having recently released their first new album in 11 years, Push and Shove, the audience of mostly dedicated fans flocked from all over the U.S. and beyond to see this amazing band perform live truly better than ever. In addition to putting on a phenomenal show, front woman Stefani took many moments to reach out to fans – sometimes literally – and all the members of the Anaheim band (Tony Kanal, Tom Dumont, Adrian Young, Stephen Bradley, and Gabriel McNair) seemed to be having the time of their lives on stage. Hopefully this will serve as a prelude to a full tour next year, given the reception of these shows and the strength of the new album, which is fantastic. Truly an epic night that will not be forgotten by those lucky enough to have attended this show or one of the others.
No Doubt is an Anaheim band that formed in 1986, though it was with 1995′s Tragic Kingdom where they had their phenomenal mainstream breakthrough, with a series of hits. With their unique blend of ska, punk, and pop, they were part of a second New Wave of acts associated with the 90s that were rebranded Modern Rock, and then as well as today the band is at the top of that group.
Most fascinating for me is that each of the band's albums from Tragic Kingdom on (Return to Saturn in 2000, Rock Steady in 2001, and now Push and Shove) have been excellent, which is unusual for most groups, who often struggle along the way in trying to find a balance between reproducing and building on success while trying new things artistically. For whatever reason, with No Doubt it just seems to work. I would personally have a difficult time ranking their work as each album has real stand out tracks but at the same time are great albums through and through.
In music today, the notion of the album is definitely (and in my opinion unfortunately) in the decline, with younger music fans being pretty fickle and being very song/track-oriented… in the music world of my own youth, we bought albums. Today, many simply buy the one or two tracks from an album via iTunes, etc., and disregard the rest of the album (and in some cases don't pay much attention to the artist that created it).
Which brings us to Push and Shove. Given that the band has not worked together for some time, I candidly had low expectations about this one, so was completely shocked at how awesome it is… definitely among the top of my grouping of favorite album of the year, and certainly one of the songs on the album will be in the top ten list of favorite new songs of the year as well.
When I heard about these special shows, I knew I had to come down to L.A. to catch at least one of them. The only real downside was that I missed the fan club pre-sale, and the only way I could score a GA Pit ticket was to buy the "VIP Party Pass", which amounted to nearly $400 with fees. Yikes. So if that doesn't tell you that I'm a fan, I'm not sure what will.
Waiting in various lines as part of the will call process though, I found that today's No Doubt fans are all really cool people – truly one of the best collections of people I've run across at shows all year – so that aspect was very enjoyable.
As part of the package, we did get some cool swag, and there was a party with an open bar… but my whole objective with the tickets was to get to the front. So I bypassed the party, and went straight for the floor once I was able to, and found it was two to five people deep across the entire stage by the time I got in, which was a bummer.
I met some more fans on the floor – all really cool people – and by the time No Doubt came on, they were kind enough to fit me in on the rail, right in front of Tony, which was awesome (THANK YOU, my friends).
As far as the concert itself goes, it was such an awesome experience. Unlike the new album, in which I held low expectations before listening, I had really high expectations about the concert – and the band absolutely exceeded those as well.
Such an awesome band – great songs (obviously), great performers, high energy… superb sound and they played really tight and intuitively together – really a joy to be part of it.
One funny thing about setlists… early on Gwen started talking to the audience, and someone asked for her setlist, and she pulled her own up off the floor and handed it to him. Never seen an artist do that before.
Gwen did bring a number of fans up on stage for photos, hugs, and what not, but there was one that was such a cool moment, and I'm happy to have captured a bit of it on film… Gwen brought this girl on stage, who produced a portrait sketch of Gwen in a notebook. Gwen kissed it and imprinted her red lips on it, and autographed it as well. Below are some of the photos from that fan encounter… Priceless…
Another cool moment was when Gwen jumped into the audience to take a photo with a fan (per request on a sign)…
The band have so many great songs in their catalog, that make for quite a surplus in trying to figure out the ultimate gig without going too long, and I think they did a great job in selecting what they did.
Truly an awesome show… I could go on and on, but I'm really just glad that the band got together, made more great music, and are still very relevant with a vibrant and dedicated fan base.
A highlight for me, of course, was when Gwen came over to me after the show and reached down and grabbed my hand – the photos below are just before that moment.
UPDATE: Thanks as well to Jonathan Shensa for sharing his concert review and photos!
Greetings everyone! Welcome back to this edition of "The Outsiders Guide to the Inside of Hollywood". This blog is dedicated to one of my all time favorite blondes band. Like many of you I was late and didn't experience No Doubt's music, until their third album, 1995's Tragic Kingdom. Unfortunately, I didn't get to see them on that historic tour. My first time seeing the band would not be for another 6 years.
When I first heard that No Doubt, would be playing in support of U2, on the Elevation Tour, it was a dream double bill for me. I'd been waiting to see No Doubt for years, and now they were playing in an arena with one of my favorite bands. By the time of the show date the city I was born in was attacked. As the nation tried to pull together leaders encouraged us to go back to our normal everyday lives. However the fear of a large amount of people in a public area caused many musical acts put off tours while U2 was adding shows to sold out cities.
Horrifically on the day of the show the people of New York faced another tragedy. American airlines Flight 587 flight from John F. Kennedy International Airport in New York City to Santo Domingo Las Américas International Airport crashed in Queens. At first the fear was it was another terrorist attack on the city, which thankfully was not true.
The music and the show went on. After a long wait I got to see Gwen and the boys at their best playing live. The band was on high energy and played all the crowds favorites including the latest single / anthem "Hella Good". Gwen would return during U2's set, for a emotional and memorable duet with Bono of Marvin Gaye's "What's Going On? My first No Doubt show was one of those special nights and concerts. It was more than just a concert in was an experience. The bands made everyone sing and cheer and feel good again. I couldn't wait to see No Doubt again playing a full set. What I didn't know that it would be the last tour the band would do till a reunion tour in 2009.
No Doubt Reunion Tour Gibson Amphitheatre – at Universal City 7- 22- 2009
When No Doubt announced their summer 2009 Reunion Tour, I knew if there was only one summer concert I was going to attend, it had to be that one. To make matters even sweater the show was going to take place down the street from where I lived. I decided I wanted to go to night 1 of the 6 shows. I waited to the day off the show and literally stood at the box office for hours hoping they would release more tickets. Finally about 3 hours before the opening act was to take the stage I got a ticket for the pit of all places. Oping acts The Sounds and Paramore played crowd pleasing sets. By the time No Doubt, hit the stage the crowd went crazy. The bands energy energized the crowd as they played all their hits and even some great album cuts. Gwen and the band seemed to be so happy to play together again. It was clear to see how much the band loves their fans. After taking a number of pictures, I wanted to get a video clip of one of my favorite songs to remember the experience and share with fans who couldn't be there. What I wasn't expecting was Gwen, walking into the pit in the middle of the last song "Sunday Morning". Then I had an extreme too close up with Gwen. I then saw a hand and microphone coming for me as she kept banging and shaking her head. I kept moving back as she moved forward so I didn't whack her with the camera ( http://www.youtube.com/watch?v=DP-eysbeZBM). Another amazing show and another memorable experience.
No Doubt Gibson Amphitheatre Residency at Universal Studios – 12- 4- 2012
No Doubt played their 6th, sold out show of their current seven night residency Tuesday night at the Gibson Amphitheatre, at Universal Studios. After impressive sets from female lead singer bands Kitten and Best Coast, Gwen and the boys hot the stage at a little after 9. The band took to the stage taking a long look at the ecstatic audience, then laughing into the title track of the bands brand new album "Push and Shove". The band would go on to only a few more tracks off the current album. This was a night for the bands fans to celebrate and share. The second song of the night, was their hit cover of 80's band Talk Talk "It's My Life". Next up was the dance anthem Hella Good, followed by Underneath It All, Ex – Girlfriend, Hey Baby and New. The crowded danced and sang along with every song. You could see how much the band loves there fans. The ages ranged from 5 – 55. Girls dressed up like Gwen and her different styles from 1995-2000. Some of those lucky fans were invited on stage to show home made signs they had made and got photos with her.
Half way through the set the band did something I've never seen them do. A five song acoustic set that included unplugged versions of Hey You, Sparkle, Simple kind of Life, One More Summer and End It On This. Gwen spoke to the crowd telling them how much it meant to her when the crowd knows and sings the lyrics to the new material. You could see Gwen's and the bands emotions were real. You could feel the love and support between the band and the audience. My highlight of the evening was Sunday Morning with A Capella Intro. I must admit every part of the show was enjoyable. For an encore the band played Total Hate, a fan choice winner chosen on their web site before closing with Spiderwebs. Gwen continued to shake and sign autograph for the crowd in the pit after the last note was played. The show proved the there is no doubt, that the band is currently as strong or stronger than ever! No Doubt will play their 7th and final show at the Gibson Theatre Thursday at 7:15. A limited number of tickets are available here: http://concerts.livenation.com/event/0900491B0DBF86AC?crosssite=TM_US:749997:73787