UPDATE 3: LOL at this photo Tom just shared of himself and Adrian dressed as ladies for a show at the Cattle Club in Sacramento in the early '90s. Fans may recognize the photo as being part of the collage that Gwen designed for The Beacon Street Collection album artwork. They are looking hot! 😉
UPDATE 2: Tom is on a roll sharing awesome photos on his Instagram! This morning he posted this shot of himself and Adrian in a taxi in London during the mixing of the Rock Steady album circa September 2001: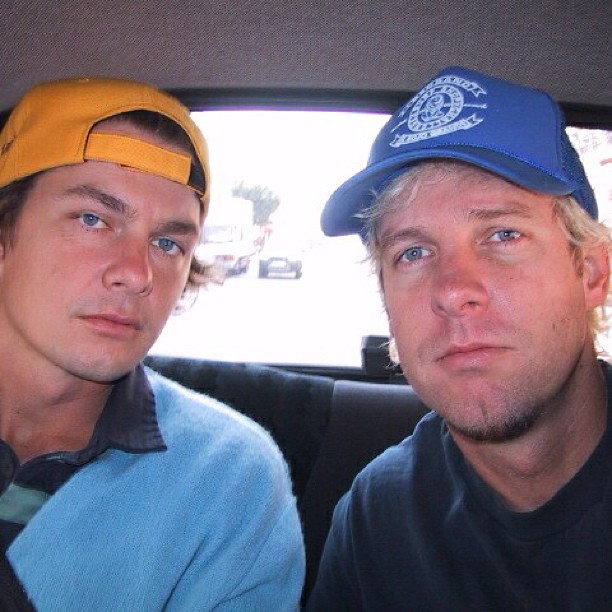 UPDATE: Tom also shared a cool shot of himself and Tony while No Doubt was in Jamaica for the Rock Steady sessions in 2001.

Tony and me in Jamaica -during the Rock Steady sessions, circa 2001. We all lived at this studio called Gee Jam, near Port Antonio, for two weeks. We'd swim every day in a fresh-water ocean lagoon nearby and record all afternoon and night. We each had our own amazing little bungalow on the hillside, and we had the most amazing Jamaican food. Plenty of rum was had, and many locals would come by with gifts such as cookies etc. It was a magic place and time and they are such special memories for me.
Thanks to Tom for sharing yet another gem on his Instagram-this time,it's an awesome shot of himself and Adrian during No Doubt's tour in Asia circa 1997.
Adrian and I- on tour in Asia around 1997. Pictured here sleepy and silly.