Thanks to our good friends at Beacon Street Online and Taylor,check out scans and a transcription of Gwen's November Fashion Magazine Canada cover story! The article is one page,but features a gorgeous photo from a Gwen L'Oreal shoot and really nice interview,both of which were done while Gwen was in Cannes back in May.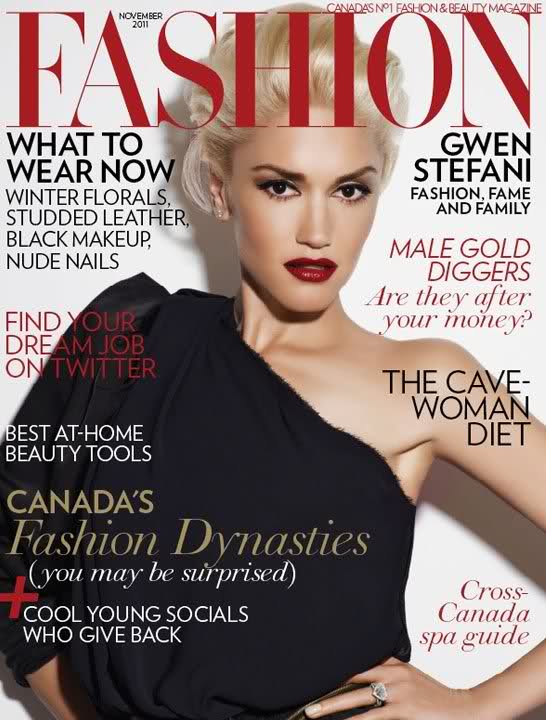 WHITE HEAT
With a thriving fashion line and a new No Doubt album on the way, Gwen Stefani's high-octane career shows no signs of slowing down.
By Sarah Daniel
Scandinavian-sounding icy blonde bounces over to introduce herself. "I'm Gwen Stefani's doubler," she says. Um, doubler? She's met with a crowd of confused faces. "I'm her stand-in," she explains, pointing to the tented spot nearby, where cameras are poised to snap and roll. We're at the glamourous Cannes Film Festival, waiting for the real Gwen Stefani to return from rocking steady on the Cote d'Azur; the 42-year-old quadruple threat (singer, fashion designer, actress and fragrance creator) is aboard a monster yacht shooting an ad for L'Oreal Paris's Voluminous False Fiber Lashes mascara. We are supposed to be watching from behind-the-scenes, but we missed the boat — literally.
By the time the yacht squeezes into the harbour , a small crowd has gathered to receive Stefani, who's wearing a vintage sheer, black cover-up that billows in the Mediterranean breeze. Even squinting against the sun, it's impossible to miss her cloud of platinum hair — colored and coiffed by her long-time stylist Danilo — and her intense smokey eyes courtesy of makeup artist Charlotte Willer.
As a newly appointed face of L'Oreal Paris — an official partner of the festival — Stefani was flown in to hit the red carpet circuit along with fellow spokesmodels Milla Jovoich, Doutzen Kroes and Laetitia Casta. Last night, Brad Pitt invited her to the premiere of The Tree of Life, which touches on an authoritarian father's relationship with his three sons. "I was sick afterwards, because I have two boys," she tells me when I drop by her trailer after lunch. "It was draining."
She's been to Cannes before her husband, singer Gavin Rossdale, though it was at the paparazzi-free stage of her career. "At that time in my life, I hadn't been to that many places," she says. "It was just such an eye-opening, beautiful experience. It's pretty rad to be back here."
But she won't be able to enjoy it for long. After Cannes, she will head back to a Los Angeles studio to finish No Doubt's first record since 2001′s Rock Steady. It's a happy reunion with the band that launched her career in the late '80s, starting as four ska-loving kids from Orange County, Calif. Then there is the launch of Harajuku Mini, her line of children's clothing for Target. She'll also travel to the L.A.M.B. headquarters in Montreal to work on her Spring 2012 collection. Growing up, Stefani wasn't into labels, and her mother made a lot of her clothes. When they did go shopping, she says, "I'd be like, 'Can I just have the money and I'll just go to the thrift store?'" She has her first first designer piece: a Vivienne Westwood corset she bought after No Doubt's first single, "Just A Girl," came out.
Stefani becomes animated when talking about fashion and her own collection; she's deeply involved with the design process, choosing the runway soundtrack, casting the models and working with Willer on the beauty looks. The shows allow her to combine all of her talents and passions: music, fashion, makeup — oh, and family. At the close of L.A.M.B.'s Fall 2011 show in New York, her sons, Kingston and Zuma — who often enjoy the power play dates with fellow high-wattage kids like Maddox and Apple — looked on from the front row with Rossdale. When Stefrani came out for a bow, Kingston jumped on stage to join her.
I'm told on three seperate occasions that Stefani's personal life is off limits in our interview, but she seems keen to bring it up. When I comment on the nude lipstick she's wearing — a departure from her signature shade — she revealsthat Rossdale is one of the reasons she gravitates toward crimson. "People are always shocked by it, but a lof of times I don't wear red lips — last night I wore a fuchsia color. But my husband really likes red, and I'm trying to make him still like me," she says laughing. "I'm always trying to make that work."
All of Stefani's boys are with her on this trip, and the family's been "doing a lot of fun stuff." I ask if her makeup is as dramatic on those days; has having kids made her relax a little? "Come on! Gimme a break," she cracks. "I always get made up, every day. It makes me feel ready to go."