WOW,what a wonderful surprise!!! Gwen is on the cover of the November issue of InStyle,with a brand-new,GORGEOUS photoshoot! Check out the absolutely stunning HQ scans below,thanks to Kroq_jock from Celebutopia! The magazine should be hitting newsstands very soon! The photographs were shot by Michelangelo Di Battista at Milk Studios in LA,Gwen's hair and makeup were by Danilo and Charlotte Willer,and she was styled by Alice Gentilucci. According to the inside cover scan,there will be a video posted on InStyle's facebook page soon in which Gwen answers fans' questions about her fashion empire,her ever-changing style,and how she picks the perfect shade of red lipstick. There may likely be a new interview featured with the photoshoot that isn't included with the Celebutopia scans-if there is,we will try to have it up as soon as possible;in the meantime,if you get the magazine and see the interview,please don't hesitate to send in scans!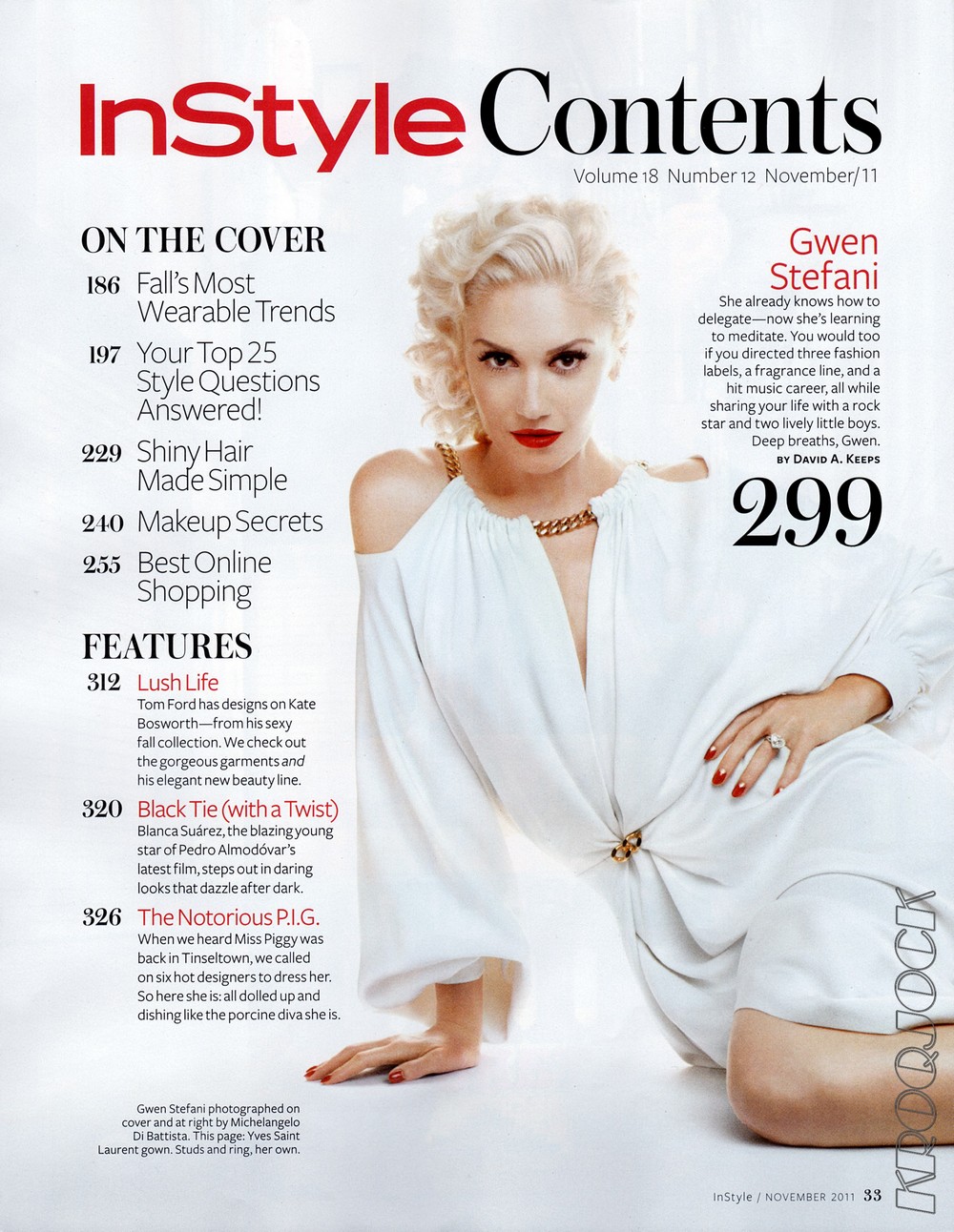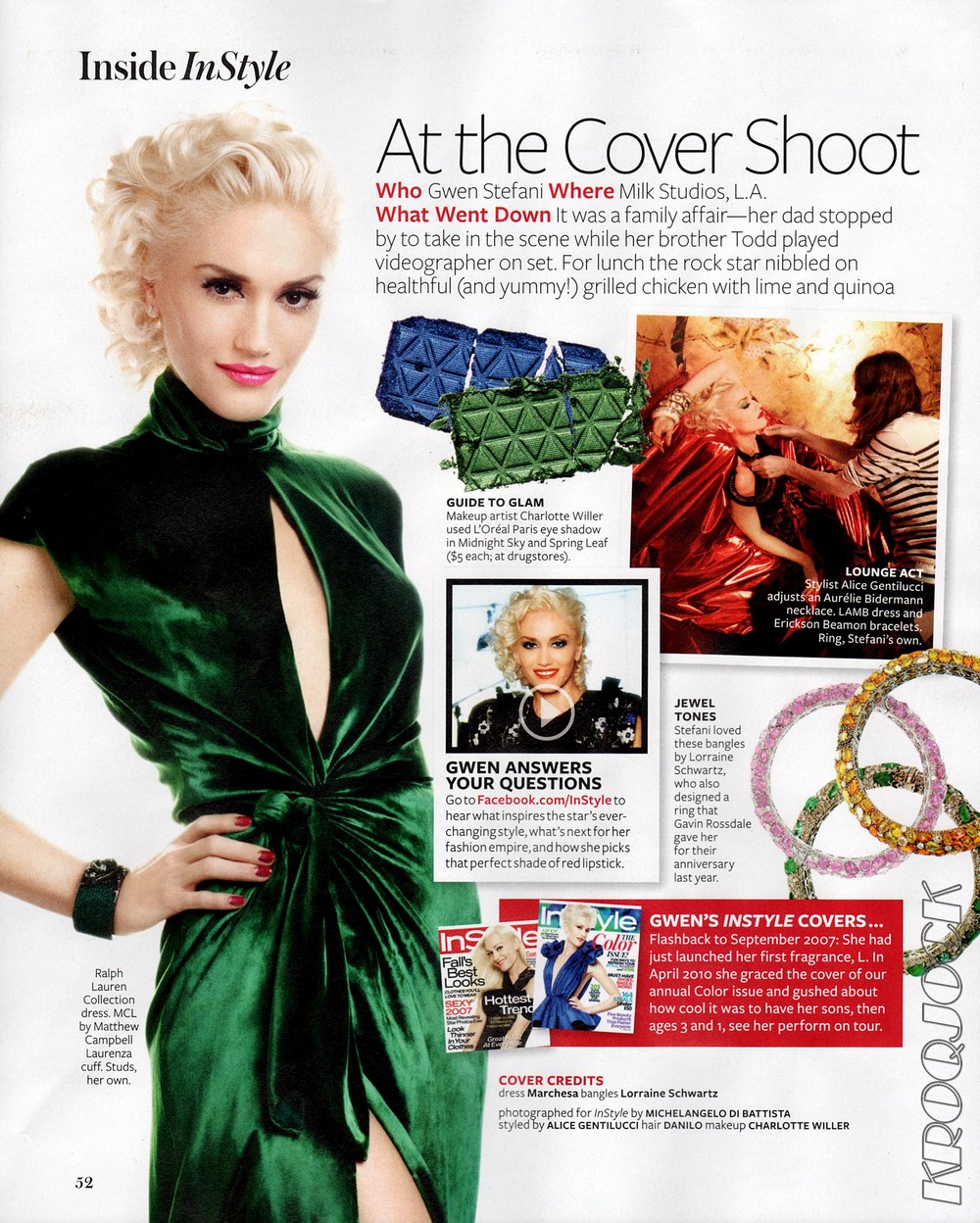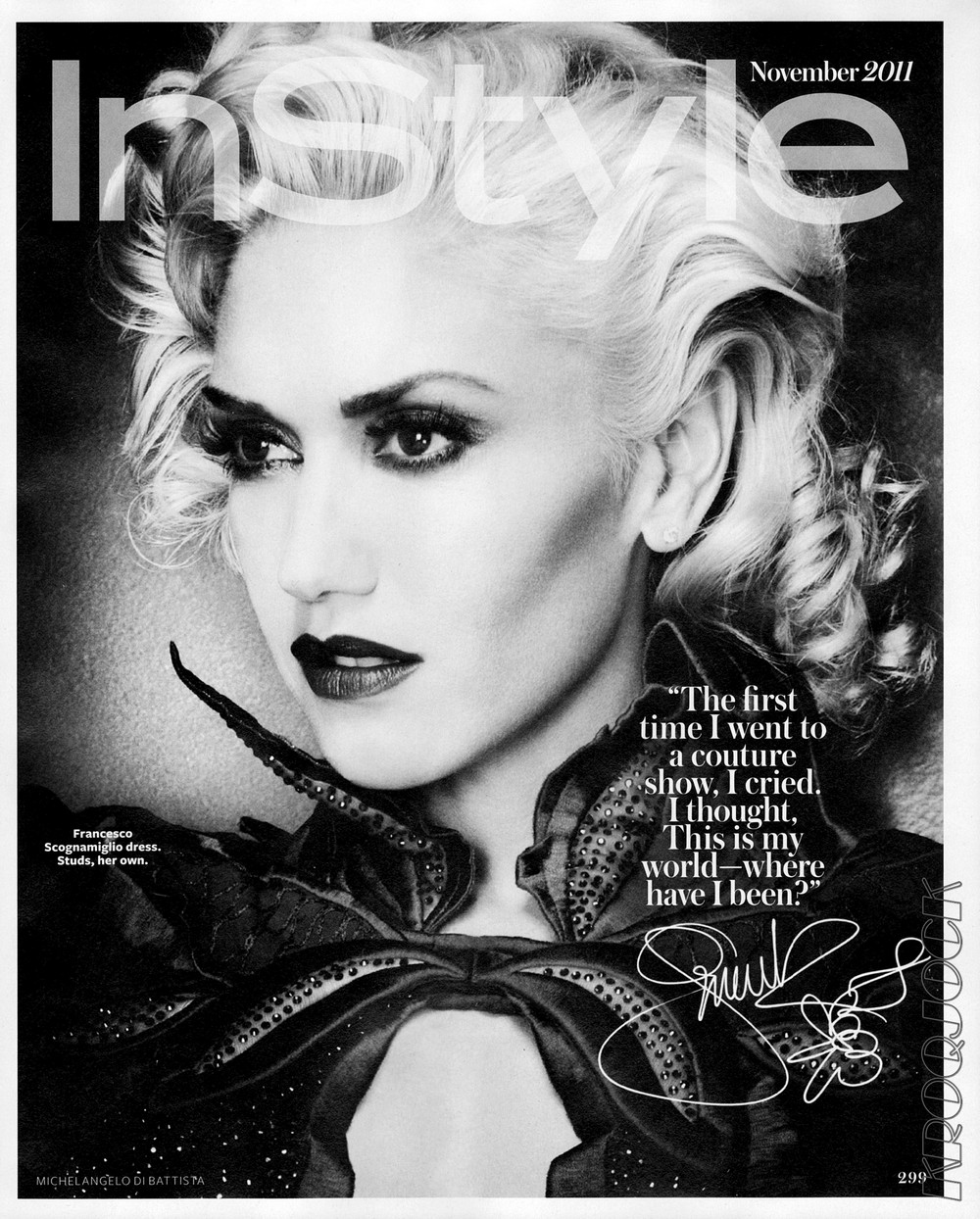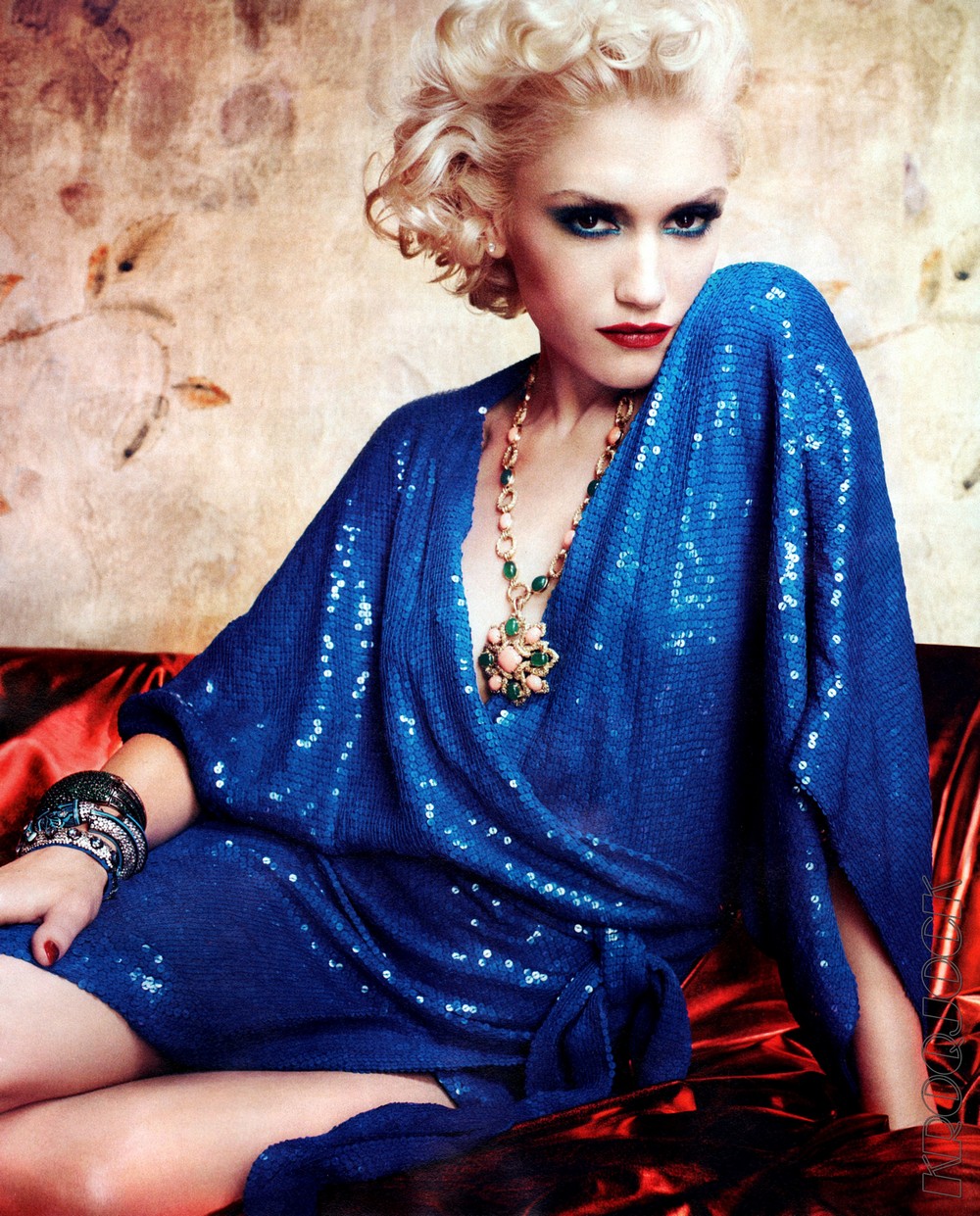 Here are the Gwen quotes that are featured in the photoshoot scans:
"The first time I went to a couture show,I cried. I thought,'This is my world-where have I been?' "
"It's amazing that I have three fashion lines. I watch Project Runway and there are these people trying to do fashion shows,and I think,'How did I get to do this?' "
"I really love Old Hollywood. I love that glamorous world and the makeup the stars wore."
"My hair color is L'Oreal,but I won't reveal the number. And I do my roots as often as Marilyn Monroe did hers. I'm serious. I found out."
Here are details of the shoot from the "At the Cover Shoot" scan:
The shoot at Milk Studios in LA was a family affair-Gwen's dad stopped by while her brother Todd videographed the shoot. Gwen nibbled on grilled chicken with lime and quinoa for lunch. Makeup artist Charlotte Willer used L'Oreal Paris eye shadow in Midnight Sky and Spring Leaf. Gwen wears a Marchesa dress on the cover and a L.A.M.B. maxidress,Ralph Lauren,Miu Miu,Francesco Scognamiglio,Giorgio Armani,and Jimmy Choo shoes in the various photos;the jewelry is by Aurelie Bidermann and Erickson Beaman-the bangles she wears on the cover are by Lorraine Schwartz,who also designed a ring that Gavin gave her for their anniversary last year.
UPDATE-InStyle has posted a few more quotes from Gwen's cover story-the issue hits newsstands on October 21st!!!
Gwen Stefani is InStyle's November cover girl! In this issue, the rock star designer opens up about doing so much in so many arenas—fashion (she launches her third line Harajuku Mini for Target mid-November), music (a new No Doubt album is slated for next year), and family ("being a mother is probably the most challenging thing I do," she says of parenting Kingston, 5, and Zuma, 3, with husband Gavin Rossdale). What's her secret? "At work I've learned how to delegate. You don't have to be on a ladder in a warehouse, micromanaging. You can be at home. And teamwork is also such a big part of marriage and parenting." She also delves into another area of expertise—beauty. "My hair color is L'Oréal, but I won't reveal the number," says Stefani, a spokesperson for the brand. "And I do my roots as often as Marilyn Monroe did hers. I'm serious. I found out." Though, she wasn't always blond. "Right after we came home from the first No Doubt tour I felt like I might get recognized, so I colored my hair red. And I hated it." As for her famous red lips? "The makeup goes on every day, even if I'm not going anywhere." For more of our exclusive interview, pick up the November issue, on newsstands Friday, October 21st.
No Doubt has tweeted and posted on the official site to remind everyone about the issue;they say the magazine will be out on October 19,while InStyle's site it will be out on October 21,so be sure to keep checking your local newsstands!
@nodoubt Gwen is on the cover of the November issue of Instyle Magazine. On stands Oct 19. http://t.co/QFIW0qdC
Gwen is featured on the cover of the November issue of InStyle. She recently joined photographer Michael Di Battista at Milk Studios in Los Angeles for the shoot. The photos turned out amazing, here's a sneak peek at the cover. In the article, Gwen talks about her new clothing line, Harajuku Mini, which debuts in Target stores this November. The InStyle cover issue is available everywhere October 19.