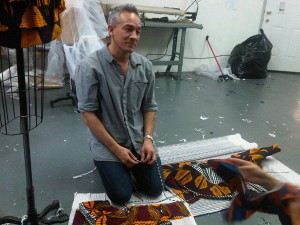 L.A.M.B. designer Cesar Galindo talked to Racked.com about the inspirations for the Spring 2012 L.A.M.B. collection;he explained that the collection's Middle Eastern Indian theme was inspired by the outfit Gwen wore for the Fall 2011 runway show back in February.
Last February Gwen Stefani presented her L.A.M.B. collection in a fantastic six part, rock and roll-themed fashion show in the Fashion Week Tents' enormous Theater. So, when we heard that this time around she was just doing an intimate presentation in the much smaller Box, we correctly guessed that Gwen wasn't going to be in town for it. Sure enough, she's off recording a new and long-awaited album with No Doubt. Fortunately the clothes held their own without her. Although the trappings were lower key than at February's show, L.A.M.B.'s Spring /Summer 2012 collection was cool, fun and fashion forward.
Who made some women VERY happy?
We spotted and spoke briefly with Cesar Galindo, best known for his appearance on Bravo's The Fashion Show Ultimate Collection, who works with Gwen designing her collections. Cesar told us that this collection's Middle Eastern Indian theme was inspired by the outfit Gwen wore when she came out on the runway after her February collection. "It was a black and white sari and it lit a fire for us," he explained. While we could see that influence, we also thought the collection had a bit of an Eighties vibe—particularly in a great black and white checked jacket and pants combo, which was one of our favorites.
Also seen at the presentation were Fern Mallis, Leven Rambin and L.A.M.B. show regular, Gossip Girl's Matthew Settle. Settle created a bit of excitement when he graciously agreed to pose for photos with a few delighted young—and not-so-young—Gossip Girl fans.