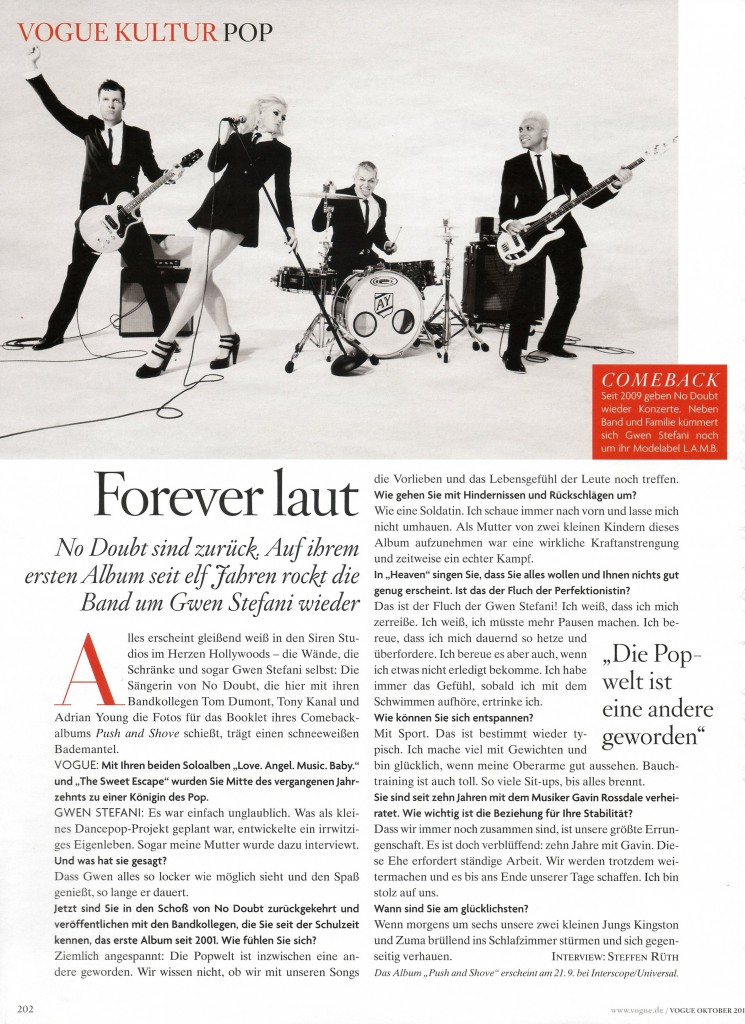 Thanks to gwencouture for scanning a short Gwen interview featured in the October issue of German Vogue;we loosely translated it below.
Forever loud
No Doubt are back. On their first album in eleven driving the band to Gwen Stefani rock again
Everything seems gleibend female in the Siren Studios in the heart of Hollywood, the walls, the bar and even Gwen Stefani herself: The singer of No Doubt, here with her ​​bandmate Tom Dumont , Tony Kanal and Adrian Young pushes the photos for the booklet of their comeback albums Push And Shove, wearing a bathrobe schneeweiBen
VOGUE: With your solo albums,they were middle of the last decade to the pop world.
GWEN:It was ingrowth. What was planned as a small dancepop project developed a life of its own. Even my mother was interviewed for this purpose.
So what did she say?
That Gwen sees everything as loose as possible and the situation lasts.
Now No Doubt returned due and publish the bandmates made ​​since the school know, the first album since 2001. How you feel,tense?
The pop world has become another. We do not know whether we will meet with our songs, the past life and the people still are aware.
How do you deal with obstacles?
I always look forward and not let fell me. Record as a mother of two young children this album was a real exertion and sometimes a real struggle.
In ''Heaven", you sing, you want it all and you do not appear good enough. Is this the curse of the perfectionist?
That's the curse of Gwen Stefani! I female, I Grind me. I female, I had to take more breaks. I regret that I hate so and uderfordere micj permanently. I regret it but if I get something done. I always have the feeling when I aufhore with swimming, I'm drowning.
How do you relax?
I work out. That is certainly just typical. I do a lot with weights and am happy when my upper arms look good. Abdominal training is also great. As many sit-ups, brent up everything.
You are married ten years to the Mister Gavin Rossdale. How important is the relationship for your stability?
Fact that we are still together, our greatest achievement. It's amazing: ten years with Gavin. This marriage requires decent work. We will continue to make it and make it to the end of our days. I'm proud of us.
When are the happiest you?
Six in the morning our two little boys Kingston and Zuma come into the bedroom and spank each other.