Lil Sugar has posted 33 exclusive photos of pieces from Gwen's upcoming Harajuku Mini line for Target,including onesies,hoodies,sneakers,pants and shirts for babies,boys and girls,as well as luggage and bags!!! The items are absolutely ADORABLE!! We wish Gwen and her team the very best when the collection launches at Target on November 13-it is sure to be a HUGE success!! We had posted exclusive scans of a Harajuku Mini ad from the new issue of Parents Magazine here.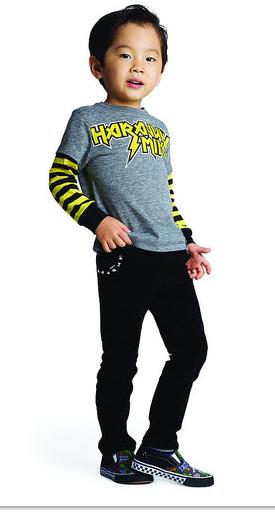 When we first spotted Kingston Rossdale taking his mama out to lunch on her birthday, we couldn't get enough of his great plaid pants, but we couldn't find them anywhere. Now we know why — they're part of Gwen Stefani's upcoming Harajuku Mini line that will debut at Target on Nov. 13. Following the mom-of-two's introduction of her Harajuku Lovers' line for the retail giant last year, she's expanding the collection to include affordable pieces for infants, toddlers, and tweens (all priced between $4 and $60) — and we've got the exclusive sneak peek!
Check out all of the adorable pieces inspired by the Japanese district that made the bold designs famous, and tell us what you think in the comments below!