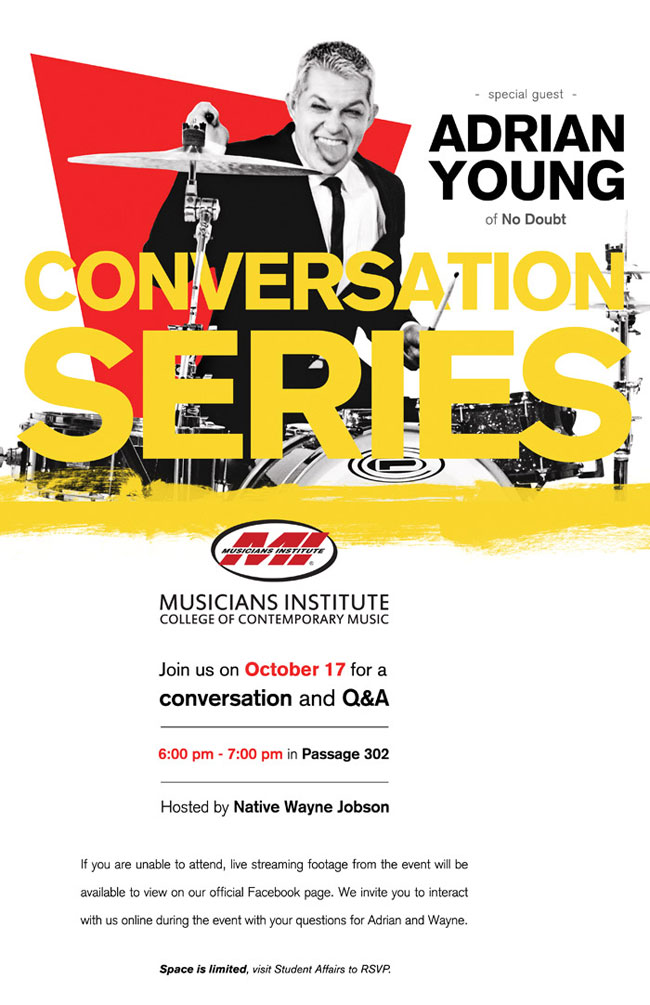 Just to remind everyone,Adrian's interactive live conversation and Q&A with Musicians Institute College of Contemporary Music in Hollywood is taking place tonight from 6 to 7 PM PST! Adrian will be discussing the early days of No Doubt,the new album,his side projects and other topics with host "Native Wayne" Jobson,who executive-produced Rock Steady. Fans will be able to watch a livestream of the event on the Musicians Institute facebook page-click on the "MI Live!" tab on the left-hand side. You can also watch via Musicians Institute's livestream channel. Fans will also have the chance to submit questions for Adrian at the end of the hour by using the chat room feature on the pages. We will be posting updates throughout the event and look forward to hearing everything Adrian has to say,especially about the new album. What questions would you love to ask Adrian?

UPDATE-Musicians Institute tweeted to announce that they will be taking the best 3 questions from the chat room to ask Adrian tonight,so be thinking,No Doubters!!!
Musicians Institute was having some trouble with their live feed,but here are some highlights from the chat:
Native Wayne asked Adrian about the music he heard during his childhood. He said his parents were hippies so heard a lot of Jimi Hendrix and Janis Joplin. He said always wanted to be a drummer and finally got a drum set for Christmas during his senior year of high school. When he was 15 he was a busboy and waiter,doing that until his early 20's until the TK tour. His first band was The Naked Postmen,his second band was EchoStar. He said that when he was planning on auditioning for ND in 1989,the others in EchoStar said to him,"I thought you were happy here?",but that he told them that ND was his "dream band." He relayed the story of how he had only played drums for a year before joining ND,but that he told the band he had been playing for 8 years. He said was green at first,and made the goal of being as good as the rest of the band. He practiced for hours in the bandhouse.
Adrian said that ND was part of the third-wave ska scene in the late 80s and early 90's-he said Sublime was "off the charts." He mentioned how ND opened for Fishbone and The Untouchables. He mentioned ND's debut album was not successful and how the band went back to school and work while working on TK;they kept playing shows and put out The Beacon Street Collection on their own. He referred to BSC as the "B-sides to TK." He said that ND hit it big,it was confusing to go from humble beginnings was an "alterante reality." He said that he could understand how other bands could break up,but attributed ND's perservence to their upbringing. He mentioned how the band members have 9 kids between them now.
He said his infamous nudity came from seing other bands like The Vandals doing it,and how it became a game of shock and entertainment.
He shared the sweet story of how proposed to Nina during ND's San Francisco show in 1999. Mason was in the audience and Adrian introduced him to the crowd.
He said recording RS in Jamaica was "fantastic". He said studio time is usually very regimented,but in Jamaica they would go to the beach ,have drinks and causally go back to the studio.
He said ND has been very lucky that they still have young fans,because of their energetic live shows;he said how during the 2009 tour many of the fans in the crowd were old-school fans who brought their kids.
He said how awesome it was to work with Elvis Costello on I Throw My Toys Around. He said the first time he did a drum solo was in 2006 during a drum off with Travis Barker.
He said that when he guest-drummed for Maroon 5,he had to learn a full set of their songs in practically one night.
He talked about working with Scott Weiland for his solo album,and working with Bow Wow Wow. He said he Loved Bow Wow Wow as a kid,and that working with them forced him to get out of his comfort zone.
He was asked what the perfect band would be,and he said No Doubt is! (Of course!)
Adrian said he went to Coachella last year and loved seeing Duran Duran. He loves the newest Steel Pulse record.
He talked about how he's played golf since high school and is still trying to improve his game. He said how he met Tiger Woods while Tiger was still "hooking up",lol.
he said he took ND 4 years to get a record deal and another 5 years to get played on the radio;he said how they recorded their first 3 albums without Pro-Tools,and how he got used to Pro-Tools. he said how some songs may not be perfect in tone,but that's by design.
He mentioned talking to Zach from Paramore,who questioned why he didn't use click tracks all the time,and Adrian said,
"That's how we roll".
He said he has mixed feelings about downloading music
Magnolia started crying in the audience,and he said "Hi,Sweetheart!"
He mentioned how ND needed to take a break after The Singles tour,and how when Gwen did her solo records, they guys worked on other projects and raised their families.
He talked about struggling recording his drums parts with a broken foot.
He said for many people it's hard to make a living as a musician,but how ND always loved making music,even before they acheived success.
He said he still loves Del Taco,lol.
He said he sometimes pulls back wth his drumming to keep the song simple with ND,but when he does session work for other artists,it's different.
He said he would play the best records while learning to play the drums,and taking a college drumming class helped him a bit.
He says he practices most days of the week if he has a session;he mentioned playing with Street Drum Corps the other night and how he tries not to get rusty.
He said coming from humble beginnings to the huge success ND has had wasn't an easy adjustment,but that he can't think of any one thing he would do differently,and he feels lucky he can say that.
He said his favorite song to play live used to be "New",but he also loves to play "Rock Steady".
He said there is no album title yet for the new record,but that they are almost finished with it and that it should be out early next year.
He said he loves Steel Pulse records;he said he first saw them live in 1987.
He joked that pro athletes are way sluttier than musicians,and that some athletes can act so entitled.
He said that he can bad at Tweeting,and that some of the stuff he tweets is "weird."
He said social media has been awesome for live concerts.
He said things are so different now,and that bands can do well without a record deal,but that it is stil probably easier to be part
of a big machine.
He said that he is proud of himself and the rest of ND for the people they have become.
After the chat,Adrian started signing drum heads for the students in the audience;Mason came onstage to help him. Musicians Institute said they would work on uploading an HD version of the chat.