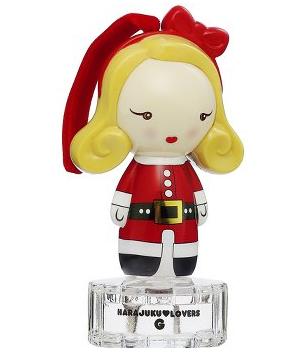 Just to mention it,the new,limited-edition,Christmas-themed Harajuku Lovers fragrance Jingle G is now listed at Sephora.com. It's not available for purchase quite yet(the site says,"Coming Soon",and the scent is scheduled to be released this month),and it will cost $25 for a .33 oz bottle and it looks like it will be a Sephora exclusive. As we mentioned a couple of months ago,it's been reported that this will be the final Harajuku Lovers fragrance(we are still hoping this isn't true!)
Jingle G
Jingle all the way with Jingle G! A warm, cozy fragrance, this fruity-oriental scent is perfect for nuzzling underneath the mistletoe.
Decked out in a festive red and white suit, Jingle G has a built-in hook in her cap that enables her to become a holiday tree ornament. With a bright red hair bow and gold belt buckle to hold up her three-button suit, Jingle G is ready to celebrate the holiday dressed in festive style.
Notes:
White Star Fruit, Gardenia, Tangerine, Honeysuckle, Orange Blossom, Jasmine, Vanilla, Cedarwood, Lace Benzion Tears.
Style:
Warm. Cozy. Festive.
UPDATE: Thanks to Shana for the heads up,the Jingle G scent is now available for purchase at Sephora.com!