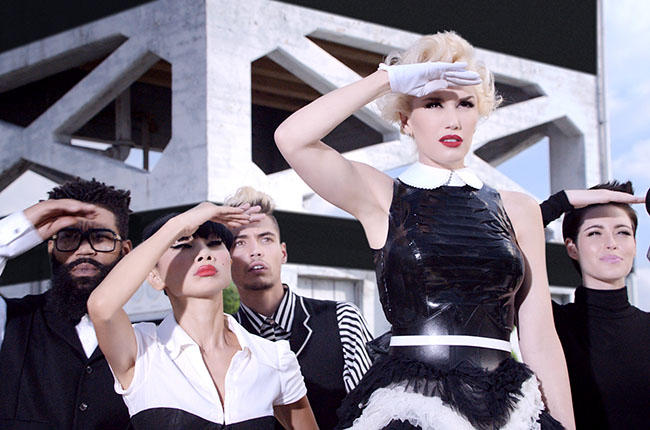 UPDATE: E! shared a behind-the-scenes video from the commercial shoot and an article about it! The video cannot be embed, so click here to watch it! Here's the article.
If you would have told Gwen Stefani years ago that she would become a Grammy winner and a best-selling artist, she might not have believed you.

"I was just this girl from Orange County who was in a band with my friends," she revealed with amazement. "Then they kept letting me do more and more and more."

So when The Voice coach was asked to join MasterCard's Priceless Surprises campaign, the No Doubt singer knew she wanted to be a part of something equally as shocking.

"The biggest surprise in my career is that I have a career," she said in a behind-the-scenes video exclusively obtained by E! News.

In the clip, Stefani prepares to pay it forward by rewarding unsuspecting shoppers with priceless gifts including handbags, golf experiences and concert tickets.

"Who's ready for a surprise?" she asks while her new single "Spark the Fire" plays in the background.
What comes next is a slew of MasterCard cardholders who experience the shock of a lifetime. Whether being ambushed on a romantic date or during a father-son bonding trip, ordinary consumers are visibly surprised to find out they are big winners.

"I think the best part about surprising people is just making people happy," Stefani shares. "Bringing a smile to somebody's face and making their day. I like to do that."
So what happens when Stefani surprises a lucky fan in person? For that, you have to watch the video above!
Gwen has teamed up with Mastercard and will be the new face for the campaign during 2015. The partnership will include "live events, support of her next solo album and upcoming projects with No Doubt, her first tour since 2007 and "Priceless Surprises" in markets around the world".
This sounds so exciting and it's a big deal for Gwen and No Doubt! We're looking forward to see what's happening next!
By Andrew Hampp | December 05, 2014
The singer follows Justin Timberlake's lead in forging a multifaceted deal with the company.

Gwen Stefani is taking her cues from Justin Timberlake. Like JT in 2013, her last solo album was released in 2006 (The Sweet Escape), so anticipation for its follow-up (due in early 2015) and accompanying tour is high. Along for the ride: MasterCard, whose Priceless Surprises program Timberlake helped co-found as part of a multiyear partnership inked with the company in 2013.

Beginning Dec. 8, Stefani will be the new face for the campaign and appear in a TV commercial giving out everything from a handbag to concert tickets. The partnership tees up a busy 2015 for Stefani and MasterCard that will include live events, support of her next solo album and upcoming projects with No Doubt, her first tour since 2007 and "Priceless Surprises" in markets around the world. Timberlake, for example, starred in a 2014 Grammy spot in which he showed up unannounced on a fan's doorstep, and participated in other surprises in Canada, Turkey and Australia, among other markets.

Gwen appeals not just to youngsters but to an older generation" says Raja Rajamannar, chief marketing officer for MasterCard Worldwide. "She has a very strong presence that we think will advance our global position." Adds Joe Dimuro, president of the Frukt North America agency: "Gwen does well in several international territories, particularly Asia Pacific, and there's a high degree of notoriety and equity in her brand. Over the next six months, you'll see another surge in popularity."