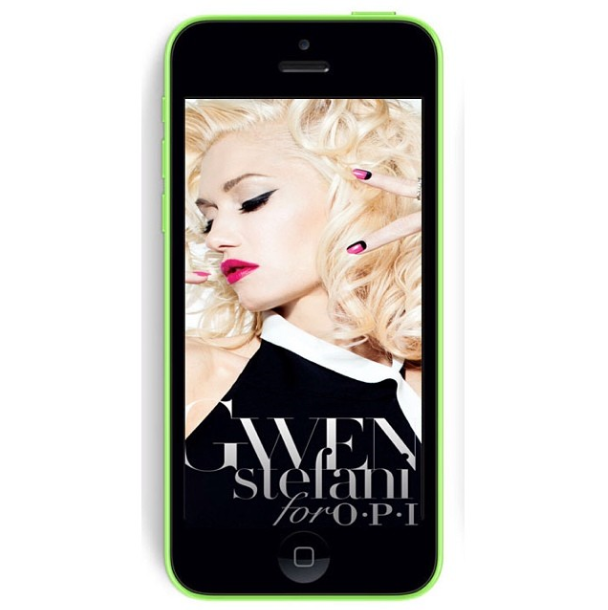 OPI has issued a press release about the recently-launched Gwen for OPI digital lookbook and nail art app. The release features quotes from OPI founder and executive Vice President Suzi Weiss-Fischmann,in which she states that "collaborating with Gwen has been such a thrilling experience". She goes on to say that the lookbook "provides consumers with a special glimpse into the partnership" and that the app "is unlike any other nail art app available". Don't forget to enter the app's nail art contest,three winners of which will be announced every week through February 7 and will be hand-selected by Gwen and Ms. Weiss-Fischmann.
OPI released two new interactive digital platforms to support the launch of Gwen Stefani for OPI—a collaboration lookbook and an app. The lookbook offers fans the chance follow the l journey of the line developed by Stefani and OPI from inspiration to execution. The lookbook contains an exclusive behind-the-scenes, full-length video from the collection's photo shoot, never-before-seen interviews with Stefani, and tutorials featuring nail art created by The Illustrated Nail's Sophie Harris-Greenslade.
The new iPhone/iPad app is where consumers can virtually create their own freehand virtual nail art using the collection's seven shades—Hey Baby, I Sing in Color, Love.Angel.Music.Baby., 4 in the Morning, In True Stefani Fashion, Push And Shove, Over & Over A-Gwen—along with Swarovski black crystals and silver,and gold and pewter studs in bar, square, diamond and circle shapes. The app also includes a contest component, where users can create and submit nail looks for the chance to win weekly prizes through February 7, 2014.
"OPI is excited to announce these two new digital components to enhance Gwen Stefani for OPI," stated Suzi Weiss-Fischmann, OPI founder and executive VP. "Collaborating with Gwen has been such a thrilling experience, and the lookbook provides consumers with a special glimpse into the partnership—from color development to product naming to shooting the campaign."
"The Gwen for OPI app is unlike any other nail art app available, allowing users to virtually paint their nails, add crystals and studs, and place the final look on a manicured hand—with no templates to curb creative direction," added Weiss-Fischmann. "Gwen and I will hand-select three contest winners each week, and we are really looking forward to seeing what users create."