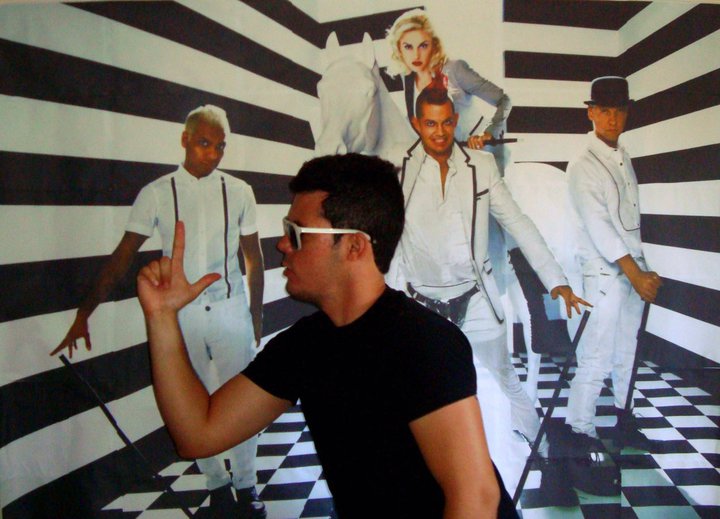 This month's featured fan is a brazilian NDer! I know Glauber for so long now, we used to exchange letters (yes, letters!) a few years ago and internet made our friendship stronger! He's such a nice guy! Hope you guys enjoy his interview!
Wanna be our featured fan? E-mail us at eit.nodoubt@gmail.com with the subject "Fan of The Month" and we'll send you all the instructions! 🙂
Tell Us A Little Bit About Yourself:
My name is Glauber, capricornian, vegetarian, passionate about animals, photographer, 28 years old, living in Brejo Santo, northeast of Brazil. I'm the director of a public library and an independent cinema and I work as a photographer 3 times a week.
How Did You Become A Fan?
No Doubt entered my life in 1996, when I won a VHS with the Just a Girl and Don't Speak videos. I've never seen anything like that before! Then my uncle's friend bought Tragic Kingdom and he lent it to me and I simply went wild with that! I begged for him to sell it to me (in my city they still didn't sell cds at the time), at first he didn't seel it, but I recorded it in a cassette and coulnd't stop listening to it! After he sold it to me and I got the first two albums. It was all so difficult, cause I lived in a city that only had 20k inhabitants and didn't have newstands, cd stores, I had to buy them all from other cities. I used to travel to other places just to buy No Doubt stuff, lol! My life changed after No Doubt, I started to collect every single item, til today!
What Is Your Favorite No Doubt Memory?
My favorite memory was when I listened to TK for the first time… I felt something I've never felt before, something that touched my soul, that made me feel so good!
Other one was in August 1997 when I knew that No Doubt was coming to play a few concerts here in Brazil. It was impossible for me to go, cause the city I live in is about 3.000 kilometers away from the 3 cities they were going to play, and I didn't have money to buy the tickets… it was all so expensive and It'd take 3 days to arrive by bus! At the time I was only 12 and couldn't travel on my own. I ended buying the tickets, but didn't go to the concert… those were terrible moments cause I couldn't make my biggest dream come true and until today, more than 15 years later, I couldn't make it happen cause No Doubt didn't return to Brazil to play more shows.
What Is Your Favorite Era?
It's complicated to choose a favorite era, cause all No Doubt do is fantastic, each album has their peculiarities and I love them all! But Rock Steady is so important to me cause it was going thru a very tough time when it was released and it helped a lot when I heard the albums, watched the dvds, the videos, I was always so happy when I saw something about ND. They make me strong!
What Is Your Favorite No Doubt Song?
Another tricky question, cause I have a lot from each album, but these are some of them: Let's Get Back, Sometimes, Sinking, Open the Gate, By the Way, Greener Pastures, Hey You, Sunday Morning. World Go 'Round, Magic's In The Makeup, New, Dark Blue, Home Now, Making Out, Start The Fire, Running, In My Head, Looking Hot, Easy. One More Summer, Gravity, Sparkle, Dreaming The Same Dream. There's a lot, but these are some of them.
What is your most prized No Doubt possession?
My Rock Steady Smiti set is the item I love the most. But I'm passionate about my collection that I dedicate to for almost 17 years!
What is one thing that you want to achieve during this new No Doubt Era, a No Doubt Dream if you will?
The thing I wish the most in my life is to make my biggest dream come true: to go to a No Doubt concert, take pics with them… I've been waiting for this for more than half of my life! Everyday I ask the gods to bring No Doubt to South America, specially Brazil.
Two more questions. If there was something that you wanted No Doubt to do during this tour, what would that be?
I really want to listen to the new songs live. I'm more and more in love with "Push and Shove"! This album will become a classic! I really hope to hear Easy, Gravity, Heaven, Dreaming the Same Dream! It would be fantastic if they, in every concert, brought some fans on stage to jump and shout to the sound of "Sunday Morning".
Last question. Is there anything you would like to say to the band, you know if they happen to read this?
The importance they have for me. It's been so long that my life is attached to their history. They make me feel so good and I hope that one day I can make my biggest dream to come true, to see them live, to meet the band and to take a pic with them. I see fans from other countries that went to more than 30 concerts already while us from Brazil are waiting for more than 15 years for them to come and play here. It would be the best news of my life if announced a tour here! I ask you Gwen, Tony, Tom and Adrian: Please come to Brazil! I love you!