Thanks so much to froggymckillop from the No Doubt forum for sharing her story and photos from the Royal/T Cafe tea party!! She posed for photos with the whole band,and got her Doghouse and Squeal vinyls signed(a photo of Gwen signing her Squeal vinyl was even posted on PopSugar!) And how awesome is this? Included in the gift bags the guests received was a sample L.A.M.B. blouse-froggymckillop believes it may have been part of the outfit Gwen wore to the 2006 American Music Awards! Congrats to her and everyone else lucky enough to attend the tea party-again,if anyone would like to share their story and and pics,please feel free to send them in!

Gwen made her rounds and thanked people for coming before things fully kicked off. She came by our table and started talking about how wonderful it is to make a difference in the lives of the children (I'm an elementary school teacher, so I have nothing to say that she isn't saying, and it's so lovely to hear her speak!). She noticed a beaded Lesportsac/LAMB on the table and called it old. I held up my Squeal and she said something about how that's really old, and took it along with my pink marker! She signed my friend's poster as well, and then autographing stopped until the photo meet and greets (later)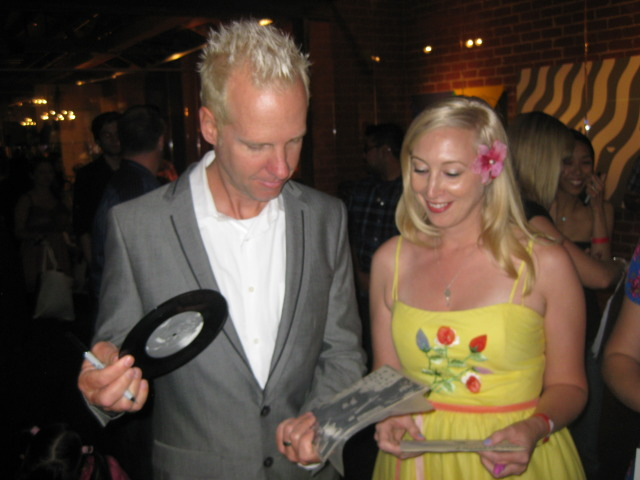 Bonus in my goodie bag–L.A.M.B sample . . . THANK YOU, GWEN!

(Sister and I think it's like the one…if not THE one…Gwen is wearing here)

About this…we were amongst the last to get the pics with Gwen. We went in the room, snapped, and waited. It didn't save in the computer, so they couldn't give us our print out picture. They called us back in to reshoot, just as the guys were coming in to snap a pic before going onstage. Tony and Adrian were sweet enough to jump in the pic with us. Yay! So sweet of them! The color levels are weird…but I don't care! Life is weird–clearly!