YAY,more quotes from the Entertainment Weekly article hitting newsstands tomorrow!!!
From NYPost:
Given their 2009 reunion tour, news that Gwen Stefani, Tony Kanal, Adrian Young and Tom Dumont (the apl.de.ap of No Doubt) would be releasing a new album didn't come as much of a surprise. But the immediacy of this No Doubt CD — it'll drop this year! — caught me pleasantly off guard.
"We only have a few more songs to finish," Gwen tells Entertainment Weekly. "It's been a really long process. Fun, but it's starting to get … like, 'Let's hurry up and finish it!'"
Writing started in 2008, when Gwen was pregnant with second son Zuma. "We definitely took a snail's pace, but only because we all have so much going on," Gwen concedes. "My day consists of waking up with babies, and then working out, my clothing lines, and picking them up from school, and then rolling into the studio at 4:30 and you only have a few hours before you have to be up with the kids again. And I can't do it five days a week. I have to be home with them for dinner."
The family vibe that permeated and, at times, detoured the recording process will also be a central component of the upcoming No Doubt tour. "There's going to be nine kids on the road with us," Tony laughs. "It's such a natural thing for us to be in our band; we've been doing it our whole lives. But then all of a sudden, these other humans joined in, little tiny ones that are really demanding. It's challenging," Gwen admits.
While we'll have to wait a little bit longer to hear the first original album from the band in over a decade, here are PopWrap's four favorite No Doubt tracks off each of their CD's to keep you rocking steady until the newest disc drops!
EDIT-Here is the cover of the Entertaiment Weekly-as expected,No Doubt is not on the cover: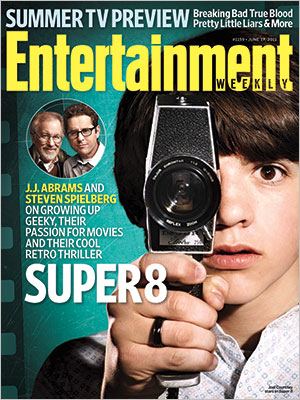 *UPDATE* Thanks to Em from the No Doubt forum for a sneak peek of the article! She was unable to scan it,unfortunately,but she reports that there are no new photos in the article(strange,since Tom had tweeted last week that the band taken some photos-maybe it was for another upcoming article?) Em also says that there are sample lyrics and brief descriptions of two of the new songs,"One More Summer" and "Settle Down"-exciting!!! We will have full scans of the article up as soon as possible!
The computer that is attatched to the scanner isn't working correctly, so I can't scan the article, sorry 🙁
Also, no new pictures or anything, just a big pic from the 09 tour and one of them on the red carpet for the Kennedy Center Honors. kinda disappointing.
HOWEVER, there were sample lyrics and descriptions for two songs – "One More Summer" and "Settle Down" :
One More Summer – A catchy driving with the top down single featuring synths, hand claps, and New Order-esque guitars.
Sample lyric – "one more summer/one more weekend/You're my lover, I'm your weakness"
Settle Down – Under a dancehall beat (think Hey Baby), Stefani sings about trying to balance all aspects of her busy life.
Sample Lyric – "I'm-a rough and tough/ nothin's gonna knock this girl down."