Wow, thanks so much to our super awesome friend Sandra, here's a big post showing all the different Gwen outfits that are on display at various Hard Rock Cafe around the world! That's so cool!
Gwen Stefani, stage outfit. Gwen wore this tank top on stage during No Doubt's 1996 tour and at the Hollywood Palladium for a benefit show in memory of Sublime's Bradley Nowell.
Gwen Stefani, striped tank top. This yellow and black striped tank top was worn by Gwen Stefani during their second performance of the night on Saturday Night Live. The show, hosted by SNL alumnus Martin Short, aired on December 7, 1996- a date which shall live in infamy.
Gwen Stefani, stage outfit. Gwen wore this lovely little ensemble onstage and in the pages of People magazine as one of the "Top Ten Trendsetters of 1997."
Gwen Stefani, striped tank top and Dickies pants. Gwen's paid her dues. With her band No Doubt, she came up the old-school way, playing in clubs and touring in vans while honing her craft. The fruit of her labor was the landmark 1995 album Tragic Kingdom- one of the top selling albums of the '90s. Her style and panache has made her an icon of both music and fashion. This black and white striped tank top with black and clear Australian crystals was worn on stage with No Doubt in Irvine, California, Halloween night, 1996.
Gwen Stefani, tank top. When Gwen Stefani was establishing her superstar bona-fides by touring the world with No Doubt in the '90s, she was quite the tank top enthusiast. This is from her wardrobe and it's bedazzled with Austrian crystals.
Gwen Stefani, Bra worn in the "Don't Speak" and "Spiderwebs" videos. Gwen must have really loved this sexy  little black bra. She wore it not only in the "Spiderwebs" and "Don't Speak" videos from No Doubt's super-smash album Tragic Kingdom, she also rocked it on the cover of Spin magazine in '96.
Gwen Stefani, Halter top. Gwen is definitely a halter enthusiast. She wore this one during No Doubt's 1996-97 Tragic Kingdom world tour. This tour changed Gwen's life forever. She started the road trip as an up-and-coming rock singer, but she ended it as a worldwide superstar.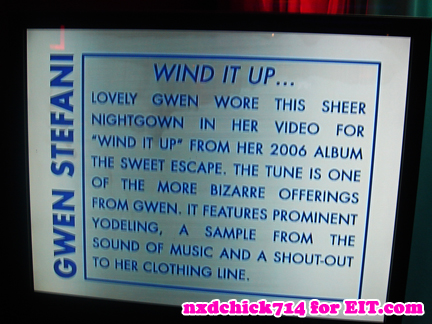 Gwen Stefani, Wind it up. Lovely Gwen wore this sheer nightgown in her video for "Wind it Up" from her 2006 album The Sweet Escape. The tune is one of the more bizarre offerings from Gwen. It features prominent yodeling, a sample from The Sound of Music and a shout-out to her clothing line.