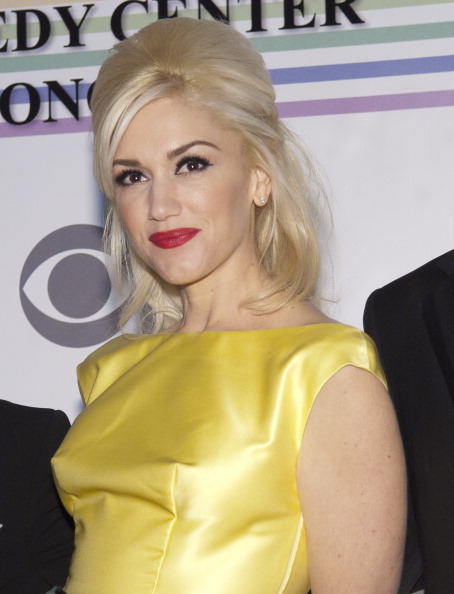 KROQ has put together an awesome Gwen photo gallery in honor of Gwen's birthday today-check it out!! And don't forget to tweet your Happy Birthday wishes for Gwen @GwensBirthday and help get #HappyBirthdayGwen trending today on twitter!!!
The Fab Life and FabSugar also put together Gwen photo galleries to celebrate Gwen's birthday!!
Since Gwen Stefani's days as an ab-baring, hair-dying, Spiderweb-walkin' frontwoman in No Doubt, this birthday girl has been turning heads. Whether decked out in her very own L.A.M.B. designs alongside Harajuku Girls, workin' it in form-fitted red carpet gowns or chillin' in casual duds with husband Gavin Rossdale and sons Kingston and Zuma, Stefani is always making a style statement. Let's celebrate the bleached-blonde beauty's 42nd birthday by taking a look back at her most classic fashion moments.
When we think of Gwen Stefani, we immediately think — impossibly cool. The artist, designer, and seriously hot mama founded a career, first as singer and songwriter for No Doubt, then secured her status as an accomplished American designer with her line L.A.M.B., and later with the launch of her Harajuku Lovers in 2005. Likewise, her personal style has evolved from a sporty punk aesthetic in her early days to a more polished rocker vibe that makes her one of our favorites to watch. Signatures stay the same — coiffed blond locks, bold red lips, rock hard abs, and an affinity for labels like Galliano and Vivienne Westwood — and of course, designs from her own coveted label. Still, Gwen continues to transform, showing a softer side via flowy maxi dresses, other times, flaunting her figure, and reminding us that she's still got some of the hottest abs we've ever seen. And, since today is Gwen's birthday, we thought it only fitting to pay tribute to her stylish evolution. Click through for 40 of her most memorable looks that highlight her growth from rocker upstart to glam icon, and join us in wishing the very talented, and ridiculously cool, Gwen Stefani a very fab birthday.
FitSugar put together a gallery with some of Gwen's workout tips:
Gwen Stefani turns 42 today — can we say, va-va-va-voom?! Gwen is so dedicated to fitness, she incorporates it into every aspect of her life from family activities to dropping down and doing push-ups during live performances. Keep reading to see what healthy living tips we've learned from Gwen throughout the years. And don't forget to try out one of Gwen's workouts for yourself!
UPDATE-The media is going all out to celebrate Gwens birthday today!! Here are even more photo galleries showcasing Gwen's always-awesome styles through the years.

From Huffington Post:
After 10 years of performing in tiny clubs, Gwen Stefani burst on to the music scene in 1995 with No Doubt's breakout album "Tragic Kingdom."
Hailing from Anaheim, Calif., then 26-year-old Gwen led the band to fame, touring around the world and later producing two more albums.
With her quirky style, brightly colored hair and costumes she designed herself, Gwen became a fashion icon, first to millions of teenage girls, dubbed "Gwenabees" who adopted her electric style and later by the fashion world as she launched her own clothing and accessories lines.
In 2002 she married British rocker Gavin Rossdale who she met on tour opening up for his band Bush in 1995. Together the couple has two children, Kingston James McGregor, who was born in 2006 and Zuma Nesta Rock, born in 2008.
In 2004 Gwen decided it was time to try her hand at a solo project, producing two successful albums, "Love. Angel. Music. Baby" in 2004 and "The Sweet Escape" in 2006.
Gwen wasn't a solo act for long, in 2009 she reunited with No Doubt for a national tour and has spent the last few years continuing to design for her L.A.M.B and Harajuku Lovers lines.
With two of the most stylish kids in Hollywood, it is no surprise she recently announced she's launching a clothing line for children, available this Fall at Target called Harajuku Mini.
Today the singer, songwriter, designer, and mom turns 42-years-old. Happy birthday Gwen!
Check out Gwen's changing style over the years:
From Stylelist
The birthday love for Gwen continues!! US Weekly has posted an article on the 5 Style and Beauty Lessons We Can Learn From Gwen:
Between her platinum blonde hair, bright red lips and unique sartorial sense, Gwen Stefani's signature look has transformed her into a worldwide fashion icon.
In addition to being the lead singer of No Doubt, recording solo albums and designing for two successful clothing lines, Stefani (who is married to rock star Gavin Rossdale), is also mom to Hollywood's best-dressed little boys: Kingston, 5, and Zuma, 3.
PHOTOS: Gwen's cutest moments with her kids
In honor of her 42nd birthday, here are five look-gorgeous tips from the super chic star.
1. Dress up. Whether she's on a red carpet or taking her sons to the park, Stefani always looks put-together — and with good reason. "I mean, I'm very vain," she told Elle magazine. "That would be my middle name. Of course I am, you know what I mean? I love the visual."
2. Keep it fresh. Crimson lipstick might be her go-to, but the singer-songwriter also experiments with other colors. "People think they see me every day, but they don't! I change it up. But my husband really loves the red, so I keep the red because I want to keep the husband." And instead of wearing just one shade of red, she mixes a few hues together to create the perfect one.
3. Break the rules. Most beauty experts say to enhance one feature at a time. But try telling that to Stefani, who proves it's possible to pair a dramatic smoky eye with bold red lips without looking overdone.
4. Flaunt your assets. She may be in her forties, but Stefani's body is as amazing as ever (especially those famous abs!) and that's because she works hard at it. "I take the best care of myself as I can. I eat really good, I work out a lot," she told BellaSugar. "And there's training and drinking water and all the stuff they say to do."
5. Get inspired. She's maintained a distinctive flair for fashion since her early days with No Doubt, which makes sense since Stefani's style influences include everything from The Sound of Music to Japan's Harajuku girls.
Even MORE love from MTV Buzzworthy!!
We're calling your bluff, Gwen Stefani. There's NO WAY today is your 42nd birthday. It's impossible. Where are you hiding them years?! To us, you're still the sexiest part of No Doubt. Just the other day we reminisced about your "Spiderwebs" moments (almost twenty years ago?!). You inspired girls to wear white tanks and go platinum while convincing us that it was no biggie to be the lead singer in a band full of dudes.
Even now, in your so-called "forties," you remind us that just because you're a mother, it doesn't mean you have to dress like one. You're still a fashion icon! Sure, you may be more interested in designing kid's clothes at the moment, but your years of success with L.A.M.B. speak for themselves. Coolest mom EVER.
So go celebrate your day! Maybe take your ridiculously adorable children out for ice cream or grab a bite with your insanely hot husband, Gavin Rossdale. Better yet, how about just strutting the streets with your gorgeous family to remind the rest of the world that you still got it while harboring the secret of everlasting youth. Happy birthday, Gwen!
More birthday love for Gwen from MTV-we couldn't agree more with the much-deserved praise they give Gwen!!
Today, No Doubt front woman and all-around fierce lady Gwen Stefani turns 42. The platinum-haired pop star is not only incredibly timeless, and might we add ageless, but she's also become the archetype for the female pop star.
Since launching onto the scene back in the '90s (yes, THE '90s!), she maintained her relevance. While No Doubt continue to chug away on their next album, Gwen's legacy remains all her own, having done it all. In addition to having an incredibly successful solo career, being a mom and a rock star wife, Stefani has paved the way for the business model of divas everywhere. Why, whatever do we mean?
Five things are almost required of the modern female pop star at this point and Gwen Stefani pretty much pioneered all of them.
1) Start a fashion line: Gwen launched L.A.M.B. in 2004 and hasn't looked back. The line is defined by Stefani's personal style: both glam and punk, it manages to always turn heads every Fashion Week.
2) Try acting: While Gwen's filmography isn't huge, but it is certainly memorable. She was recruited by Martin Scorsese to play the legendary Jean Harlow alongside Leonardo DiCaprio in "The Aviator."
3) Take up a charity… or seven: A quick Google search of Ms. Stefani shows that she's actively involved in several charities including UNICEF, Save the Children and Music Rising. She certainly proves that using her celebrity for good is the right thing to do.
4) Launch a fragrance: Or, if you're Gwen, launch five fragrances. No. Big. Deal.
5) Become the face of a beauty campaign: Stefani and her silky, shiny silver-hued hair make us want to try any product that L'oreal tells us she uses. Just call us Gwenophiles.

Here's a nice article from hometown magazine OC Weekly:
Forty-two years ago today, Gwen Stefani was born in Anaheim. The No Doubt frontwoman, solo artist and fashion designer, is beloved as OC's golden child because even as she's risen to A-list levels of superstardom, she's always retained the girl-next-door vibe.
Except she's the girl-next-door who has sold more than 40 million albums (with both No Doubt and solo), has her own highly successful clothing lines and is mother to Gavin Rossdale's kids Kingston James and Zuma Nesta.
So even though Stefani's family now goes on playdates with Angelina Jolie and kids and she still has better abs than anyone alive after four decades on earth, it's not hard to sincerely wish her a very happy birthday. And, after the jump, we count Gwen Stefani's blessings for her.
. She Only Gets Cooler with Age
Gwen's effortless style from the stage to the catwalk never disappoints.
4. She's Loved and Respected by Everyone
From No Doubt fans (duh) to Japanese school girls to fashion designer Isaac Mizrahi to these huskies, everyone loves Gwen!
3. She has No Embarrassing Moments from Her Past
Do you remember what you were like at 20? Stefani was as cute 20 years ago as she is now.
2. She Gets to Evolve with Every Life Phase
As the frontperson for No Doubt, she got to design clothes for herself onstage. When she became famous, she used her designing skills to put out two clothing lines: L.A.M.B. and Harajuku Lovers. Now that she's a mom, she gets to design clothes for kids through Target under her Harajuku brand. The new collection will out in November and will be called Harajuku Mini.
1. She Still Comes Home to No Doubt
Even though the band just blogged that the new album's release date has been pushed back, we're just happy they're working on it. As they said on the No Doubt site: "Ideally our new record would be coming out this year but it's just not ready yet. We don't want to rush this album just to get it out. This collection of songs means everything to us and our only priority right now is to make sure that it's the best album we can possibly make. There is still more work for us to do… We love our fans and are doing this for your ears and want you to know how much we appreciate your patience and support."