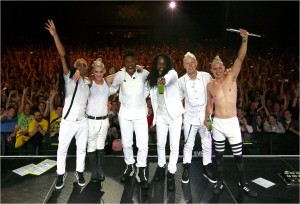 YAY,No Doubt has posted on the official site a listing of their upcoming TV performances of the new single on the Teen Choice Awards,Late Night with Jimmy Fallon and Good Morning America! While we already knew about these July performances,it's awesome that they have been officially announced by the band! Tom also tweeted that an announcement about the first single is coming soon!!
As No Doubt puts the final touches on their new album, the band is excited to announce their first series of live performances starting in July.
The first performance will take place at this year's Teen Choice Awards 2012. Fans can purchase tickets to attend the show on ticketmaster.com. Tune into Fox on Sunday, July 22 to see No Doubt's performance and check out Teen Choice 2012's website for more info.
Following Teen Choice 2012, No Doubt will perform on Late Night with Jimmy Fallon on Thursday July 26th at 12:35am/11:35pm on NBC. Fans can win tickets to access exclusive seats close to the band and an opportunity to surround the stage during No Doubt's performance. For a chance to win these tickets, go to www.fallonbandbench.com and be sure to use the code "NOD" on the entry form.
On July 27th, No Doubt will perform as part of Good Morning America's Summer Concert Series at Rumsey Playfield in Central Park, NY. The performance will take place during Good Morning America (7:00-9:00am ET) and will be free and open to the public. Fans will need to arrive at Rumsey Playfield at 6 AM the morning of the show, no tickets needed. Check out Good Morning America's website for more information.
No Doubt's sixth studio album will be released September 25, 2012. Be sure to follow @nodoubt on Twitter as well as @gwenstefani,@AdrianYoungND, @TomDumontND and @tonykanal and Like No Doubt on Facebook to stay up-to-date with No Doubt news.
here we go!!! http://intersco.pe/KPWFyr
‏@TonyKanal time to play!!! "@nodoubt: here we go!!! http://intersco.pe/KPWFyr"
announcement coming soon "@NXD2012: @nodoubt @TomDumontND @gwenstefani @AdrianYoungND @TonyKanal What is the first single?!?"
Vocals as we mix! http://pic.twitter.com/tbanPU3l
@gwenstefani Last of the studio days I love this record gx http://pic.twitter.com/ymSQpFcr
Tom confirmed that the band will be appearing on UK television as part of their upcoming promo in Europe:
Yes, UK too of course "@GGNDRiRock: @TomDumontND @GwenStefaniBR EUROPE?!?!?! Take it UK is in there?!"