The Spring 2012 L.A.M.B. presentation will take place this afternoon between 2:30 and 3:30 PM at The Box at Lincoln Center! L.A.M.B. shows have always been one of the most anticipated-and most praised-events of New York Fashion Week,and we expect this one to be no different. Gwen had told Women's Wear Daily that this collection is "a mishmash of everything I love. You could describe it as the Rat Pack going to India on the Soul Train",and Gwen's NYC publicist,Laura Claps,revealed that the items are "amazing" and that the show would once again be a star-studded affair. We are SO excited to see the collection and wish Gwen and her entire L.A.M.B. the very,very best in presenting what is sure to be another fabulous and hugely successful collection! While it has still not been confirmed that Gwen will be attending,no matter what,her amazing presence,inspiration and vision will definitely be felt. We will be keeping you updated throughout the day with the latest news,photos and videos from the presentation.
UPDATE-Here's the first look at one of the fierce-looking models appearing in the L.A.M.B. show! LOVE tha hair and makeup!

@Allure_magazine: The L.A.M.B. girls are looking fierce! http://twitpic.com/6jhcsk
More Tweets from Maybelline-the makeup look is inspired by India!
Hightailed it over to the LAMB show. Let's see what Charlotte has in store! #nyfw lockerz.com/s/137878660
The makeup look at LAMB is insured by India.

This tweet from USA Today seems to confirm that Gwen in NOT at the show-while we would have loved for Gwen to have received in person the high praise she so deserves for her collection,it is understandable that she has other priorities,including her family.
The L.A.M.B. topknot is everything. Swoon. Gwen's not here, but her influence sure is. #nyfw http://t.co/HwIzAqM
More details about the hair and makeup from Yahoo Shine's Joanna Douglas:
@joannadouglas Also ducked backstage at LAMB. Nails by essie- cool slate blue grey shade called bobbing for bubbles. Must have now!!
Makeup at lamb by @Maybelline also indian inspired w angular winged kohl eyeliner (master drama liner) cheeks contoured w pink on apples
@joannadouglas Hair at LAMB- so cool. Wove extra fake black ponytail into top knot for big braided effect #nyfw
How touching-the L.A.M.B. show is dedicated to the people of NYC in remembrance of the 10th anniversary of the terrorist attacks.
RT @colleennika: L.A.M.B. Spring 2012 dedicated to the people of New York City. So far, the collection theme seems Nubian meets moto-chic. #preview #fb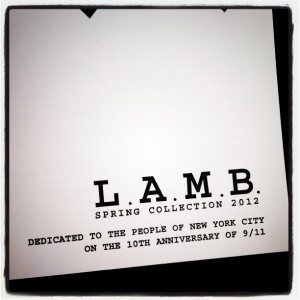 RT @StyleList: Moody manicures, extraterrestrial eyeliner and brows at L.A.M.B. – @danaoliver http://t.co/BCStoZi
RT @LauraClaps: Danilo doing his thing backstage at L.A.M.B. http://yfrog.com/kkps7huj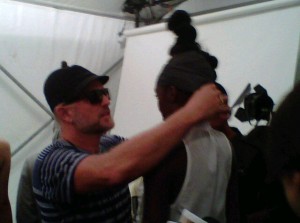 YAY,the show is beginning!! The clothes look AMAZING!!!
RT @LauraClaps: L.A.M.B. presentation begins! http://yfrog.com/nxbq8dxj
GORGEOUS!!!
RT @Maybelline A full look from LAMB: http://tumblr.com/xfl4mvwab5 #nyfw
How awesome-Gwen herself designed the makeup look with Maybelline!!!
RT @MBFashionWeek: Makeup for L.A.M.B. inspired by the women of India, designed by Gwen and @Maybelline #MBFW
@LauraClaps @Carrie_Preston, Matthew Settle and Leven Rambin all checking out the L.A.M.B. Spring 2012 collection
RT @KatherinePower: The line to get into the L.A.M.B presentation is the longest line I've ever seen at #NYFW ever. Go @gwenstefani
How cool! Apparantly music from Kanye West's and Jay-Z's recent collab album Watch the Throne is being played at the show!
RT @terry_messenger: So they are playing #WatchTheThrone at the L.A.M.B presentation @MBFashionWeek #MBFW #NYFW #Elle @TeenVogue
RT @TheGreyestGhost: Fave look at l.a.m.b http://t.co/j7mT8yi
RT @eAccessFashion: Such a fierce Gwen Stefani show! Chucky platform sandals, high buns, and cat eyes! http://yfrog.com/h8ci3ncmj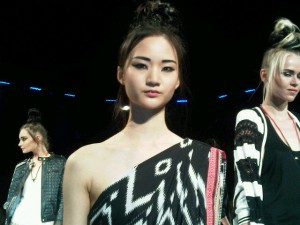 Major Lazer is also being played at the L.A.M.B. show!
RT @theREALJihan: Bumping Major Lazer at L.A.M.B. #nyfw
RT @USAToday_style: L.A.M.B. presentation is like going to the club: long line, thumping music, hot girls, getting stepped on, "bouncers" and crazy dark. #nyfw
RT @MTVstyle: Effortlessly cool looks at the L.A.M.B. presentation today! #NYFW http://t.co/eIcTVfE
RT @LauraClaps: Lots of colors and stripes at L.A.M.B. http://yfrog.com/nyv48aj
RT @HelloBeautiful: "Alejandra" heel in electric blue at L.A.M.B. Spring 2012 presentation. #nyfw – NW http://t.co/LCISeVj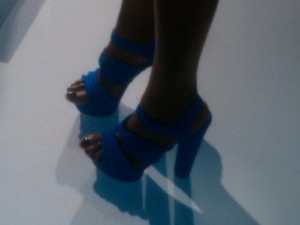 RT @FashionweekNYC: The Final look from the L.A.M.B. Spring 2012 Presentation! #MBFW http://t.co/UPJezuT
@elvainadine Model vignette at L.A.M.B. #lamb #nyfw http://t.co/CH2NSI5
RT @styledotcom: no Gwen at LAMB, but plenty of rad bags and groovy shoes. AB
http://lockerz.com/s/137925199
RT @Carrie_Preston: The #LAMB show was cool. rotatin models w/ sexy/surly faces & fierce clothes. Sad Gwen Stefani not there; but hear new no doubt album comin!
@HelloBeautiful More L.A.M.B. Spring 2012: maxi dress, separates and some fun accessories. #nyfw lockerz.com/s/137921279
The stunning jewelry for the showing was once again a collaboration between L.A.M.B. and nOir-we love it!!!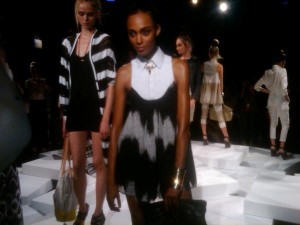 RT @SydneSummer: Photo: Dying over this nOir by L.A.M.B. ethnic necklace. Seriously, no words. #LAMB #nyfw #MBFW http://t.co/NdA3ju7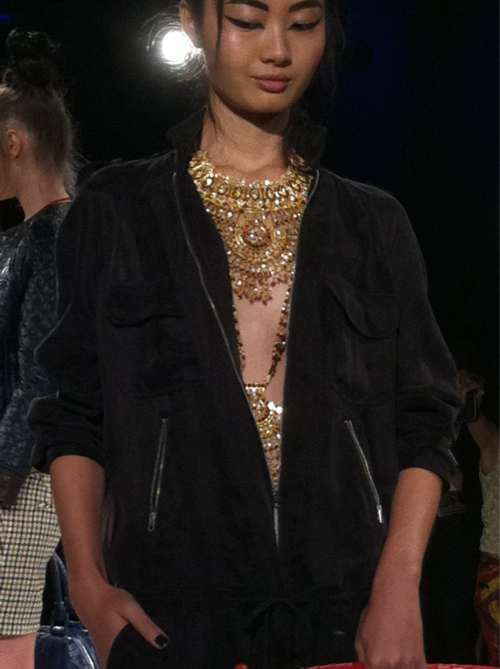 Aaah,this bag is amazing!
RT @SELFmagazine: We love this L.A.M.B bag @cnfashion #nyfw http://t.co/DCuBcyB
RT @unDRESSmeByDana: "Cute quilted jacket at L.A.M.B #fb http://t.co/AOEl5zg"
According to NYC Fashion,stylist Brad Goreski and Alex McCord of the The Real Housewives of NYC were other celebs in attendancephotos HERE.As we posted yesterday,actress Leven Rambin,Matt Settle of Gossip Girls,and Carrie Preston of True Blood were also there.