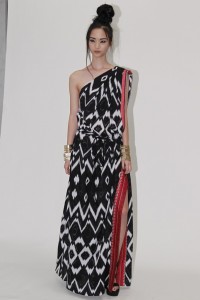 Check out photos from the FULL Spring 2012 L.A.M.B. collection and a great review at Women's Wear Daily! All of the items are truly amazing-Gwen and her team outdid themselves yet again!! MUCH congratulations again to them on yet another fabulous collection!!!!
Stefani wasn't there, but that didn't stop the eager crowd from clamoring to get past the velvet ropes in hopes of seeing her latest collection. Stefani's favored maxidresses were center stage, this time in a oversize ikat print, as well as military-inspired jackets and cargo pants. The latter were accented with jewellike sparkles reminiscent of an Indian sari. There were also flared miniskirts and drapy knits, all of which were fun, even if we've seen them from Stefani before.
There are photos of the complete collection at Style.com,as well.