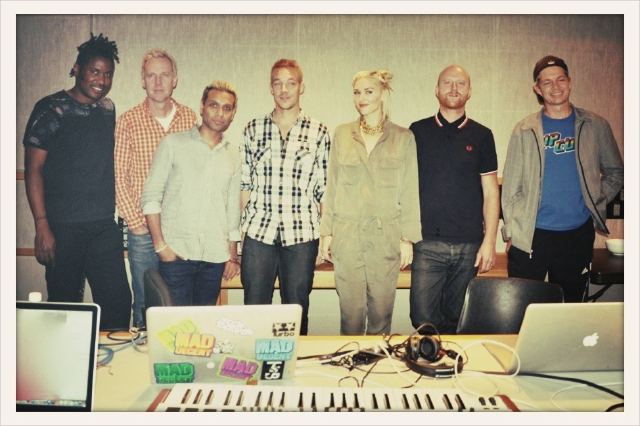 Gwen and Tony recently talked to CBS Local about collaborating with Major Lazer and Busy Signal on "Push And Shove."
You've heard the track and seen the video but when CBS Local asked No Doubt what working with Diplo and Major Lazer was like in the studio, Gwen Stefani laughed but wouldn't give up any gossip. Instead she threw it over to bassist Tony Kanal to tell us how the groups hooked up with their only collaboration on Push & Shove.
"We were kind of open to working with somebody outside if they inspired us and if it was the right thing," Kanal says. "We actually met with [Major Lazer] right when we started writing the record. It was a little bit early and they had some ideas, [so] we were like, 'You know, we need to go and write some songs first and then we'll collaborate down the road.'"
No Doubt went back to the drawing board for awhile and came up with quite a few of the songs for their album before getting back together with Major Lazer.
'About a year later they brought ["Push & Shove"] to us. They'd gone to Jamaica [and] they'd recorded this artist called Busy Signal on this basic idea. It was an amazing verse that had so much energy. We were just like, "We have to do something with this!'"
It wasn't Major Lazer's first collaboration with Busy Signal — Diplo's production team previously collaborated with the dancehall artist and M.I.A. on a track called "Sound of Siren" for their 2009 album.
Kanal says the group then took the track Major Lazer recorded and wrote a chorus and bridge for it, sending the track back and forth between groups to finish.
"It was a true collaboration. Now we have this cool 5 1/2 minute song [that] became the title track of the album. We're really proud of it."
Major Lazer also worked with No Doubt on a remix of their first single from Push & Shove, "Settle Down."
"We're learning how to play it live now, which is gonna be fun," Kanal promises.
Those in the Los Angeles area can catch the band live on November 24, 26, 28, 30 and December 2, 4 and 6 for a series of shows. Push & Shove is available now.
-Courtney E. Smith, CBS Local