UPDATE: We just added HD 1080p versions of both Red Carpet interview and "My Heart is Open" performance for download on EITMedia. Click on the pictures to go to the download pages.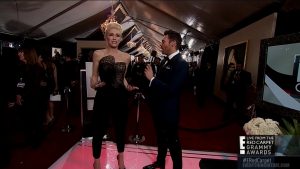 UPDATE: Here's the performance video. Sorry for the bad quality. It was recorded from the stream. HD 1080p video coming tomorrow!
Gwen already arrived at the Grammys and she looks fabulous! As announced before, she and Adam Levine will be performing together at the ceremony. It's been confirmed that they will sing "My Heart Is Open".
We'll be adding more pics and the video of the performance soon!