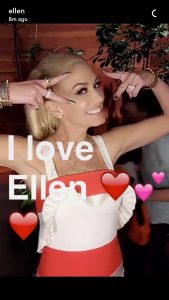 Here's a preview of today's show, Gwen talks about touring, Trolls, her new cartoon and marriage plan.
We are dying here, the hair, the outfit, she looks GORGEOUS!!
---

Gwen will be retuning the to Ellen on September 23 for a sit down to talk about all the events that happened this year, she will be joined musical guest Callum Scott and comedian Tig Notaro.
So far no word on when tickets for the tapping will be available. Will can check ElleTV to check for local listing for where you live.
Here are some videos of Gwen's visits to Ellen this year…