MTV has announced that the always-charitable No Doubt will be taking part in its 'Restore The Shore' special airing tonight at 11 PM EST and streaming live here to benefit victims of Hurricane Sandy,which devastated the East Coast,especially the Jersey Shore. We look forward to seeing No Doubt on the benefit show and thank them for taking part in yet another wonderful cause.
Like millions of kids, the members of Fun. have fond memories of endless summers spent hanging at the Jersey Shore. As adults, the trio has also put in time playing gigs in the area that was one of the most heavily damaged by superstorm Sandy.
That's why they are among the dozens of musicians and actors who've signed on to help MTV raise funds for the victims of Sandy by participating in tonight's "Restore the Shore" benefit show.
"This is the band Fun. and we want to talk about something that is very dear to us," said singer Nate Ruess in a message recorded for the special. "Recently the hurricanes have ravaged the Jersey Shore, which is a place we've spent just a lot of time."
The men of Fun. will do their part on tonight along with the cast of the "Jersey Shore" and dozens of other stars to lend a hand to those who were impacted by Sandy during MTV's "Restore the Shore" benefit.
"Restore the Shore" will air live on MTV tonight at 11 p.m. ET, and will feature appearances by the cast of "Jersey Shore" from MTV's Times Square studio, as well as cameos by other celebs all of whom will be asking viewers to contribute to the rebuilding and restoration of Seaside Heights.
But you don't have to wait until then to help out: Text SHORE to 85944 to make a $10 donation now. Funds will focus on meeting the immediate emergency needs of Seaside residents, such as shelter, food and health services. The Red Cross is also helping feed emergency workers, handling inquiries from concerned family members outside the disaster area, and providing blood and blood products to victims.
Stars contributing messages of support who will be featured on-air include One Direction, Alicia Keys, Mac Miller, Taylor Swift, Nicki Minaj, Britney Spears, Pharrell, Pink, Demi Lovato, Kim Kardashian, Ne-Yo, Kelly Clarkson, Bruno Mars, No Doubt, fun., Carly Rae Jepsen, Swizz Beats, the Jonas Brothers, Ludacris, All Time Low, Sean Kingston, Christina Aguilera, Cee Lo Green, Adam Levine, Blake Shelton and Carson Daly of "The Voice," Ashley Greene, Dakota Fanning, Nikki Reed, Peter Facinelli and Elizabeth Reaser of "The Twilight Saga: Breaking Dawn – Part 2," Jay Leno, the cast of "The View," Simon Cowell, L.A. Reid, Wendy Williams and many more.
"Restore the Shore" will feature live performances from Gym Class Heroes (with special guest Oh Land) collaborating on the comeback anthem "The Fighter," as well as "American Idol" season 11 winner Phillip Phillips playing his stirring hit single "Home."
"Please help the community of Seaside Heights rebuild," said Fun. keyboardist Andrew Dost.
From 4 p.m. until midnight, the cast of "Jersey Shore" — as well as stars from other top MTV shows including "Awkward," "Teen Wolf," "Teen Mom," "The Challenge," and "The Real World" — will be live in MTV's Times Square studio, calling donors to thank them for giving. Unlike a conventional telethon where viewers call in and hope to speak with a celebrity, MTV's "Restore the Shore" will feature stars personally calling individuals who donate via Indiegogo at "Restore the Shore" or make a $10 donation by texting SHORE to 85944. All funds raised will go to Architecture for Humanity, an internationally recognized nonprofit that led rebuilding efforts in New Orleans after Hurricane Katrina and in Haiti after the 2010 earthquake. They are now setting out to help rebuild the famed boardwalk, local businesses and homes in Seaside Heights ravaged by the storm.
Don't miss "Restore the Shore," airing live tonight at 11 p.m. ET on MTV. Text SHORE to 85944 to make a $10 donation now.
UPDATE: Here is a screencap of No Doubt's appearance on the special-it looks like it was pre-taped backstage at the MTV World Stage show in Germany. No Doubt was on very briefly-Gwen said,"All of our thoughts and prayers are with the victims of Hurricane Sandy." Thanks again so much to No Doubt for their support for Hurricane Sandy relief.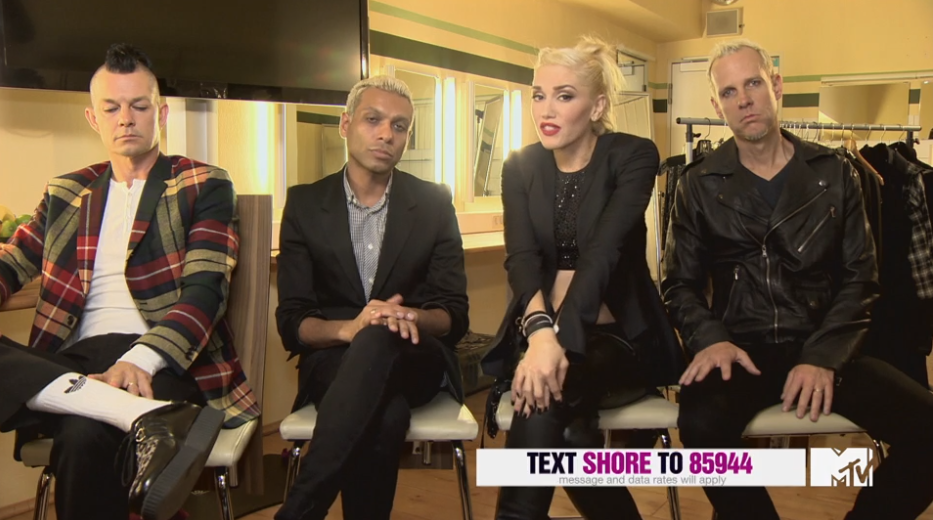 You can watch the full special here-No Doubt can be seen briefly at 48:25.