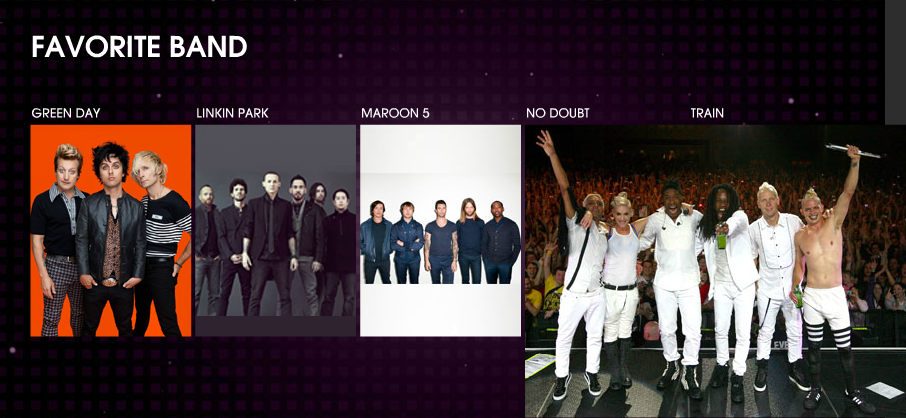 Go vote and spread the word for No Doubt as your Favorite Band in the People's Choice Awards 2013! They are up against: Green Day, Linkin Park, Maroon 5 and Train. We have until December 13 to vote,and the winners will be announced at the People's Choice Awards ceremony airing on CBS on January 9!
UPDATE: We can also cast our votes on the PCA facebook page,Twitter and via Mobile Apps!!
Our 2013 nominees were announced this morning at the Paley Center in Beverly Hills, and what an awesome collection of nominees they are.  As you know, at the People's Choice Awards, we are all about the people. To make sure that your voice is heard as loud and as clear as possible, we've created several different platforms from which you can cast your votes.  Check them out below:
PeoplesChoice.com – The main voting hub is sitting pretty right on this very website! Click around to all of the different categories and make sure you vote, vote, vote!
Facebook – If you're anything like us at the PCA HQ, you're on Facebook 24/7 anyway.  So if you can't make it all the way over to PeoplesChoice.com, head to our official Facebook page (Facebook.com/PeoplesChoice) and vote right there. You can personalize your page, share votes with your friends and even RSVP to the People's Choice Awards on January 9!
Twitter – Talk about sharing your votes, how about TWEETING your votes! Like the last few years, we have once again enabled voting on Twitter. It's super simple and a great way to show support for your favorites in movies, music and TV: After voting on the web or Facebook, you'll be asked to "Tweet your vote." Once you choose that option, you will automatically cast a second vote through your twitter account. Best of all, retweets count too!
Mobile Apps – Everyone please help me welcome our brand new iPhone and iPad voting apps! In addition to the Android app that was introduced two years ago, the iOS apps let you vote for the 2013 PCA winners, check out red carpet and backstage photos & videos and vote in our daily polls – all on your handheld! So if you find yourself out of the house and wanting to vote on the go, head to the App Store or Android Marketplace and download this FREE app now.
There you have it!  You can vote as early and as often as you like until December 13. So what are you waiting for? Start voting NOW!