UPDATE: Tom shared this tweet about Adrian using his key to the city for an unexpected purpose,lol.
true story: this 1 time @adrianyoungND took his "key to the city" of Anaheim to the Pond and showed it to get free parking. I gotta try it!

— Tom Dumont (@TomDumontND) November 22, 2013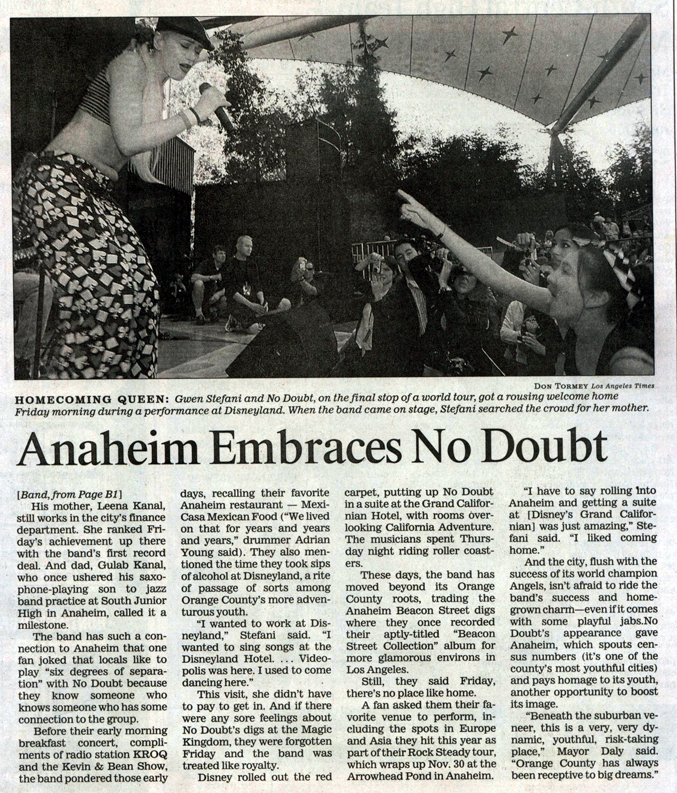 YAY,Happy No Doubt Day!!! It was 11 years ago today,on November 22,2002,that No Doubt received a key to the city of their hometown of Anaheim from then-mayor Tom Daly during a ceremony at Disneyland that was broadcast on KROQ! What a much-deserved honor for the band! No Doubt also performed an acoustic set and gave a Q&A with KROQ deejays Kevin and Bean and that night performed the first of three sold-out shows at Long Beach Arena. Check out more exclusive photos from the event our own Sandra shared here. Who else was at the event? What are your memories of this special day?
November 22, 2002
No Doubt get the key to the Tragic Kingdom… well, actually, Anaheim Mayor Tom Daly presents the band with a key to the city on "Breakfast with Kevin and Bean," KROQ's morning show. This is the ultimate nod to a band that immortalized their backyard – and was determined to get played on their favorite radio station.
No Doubt sells out three nights at the Long Beach arena and adds a fourth night at Arrowhead Pond in Anaheim, their final show on the 2002 Rock Steady Tour.
Thanks to our friends at BSO for uploading audio from the radio broadcast of the KROQ Breakfast with No Doubt event:
Here's video of No Doubt's concert at Long Beach Arena that night that was taped for the Rock Steady Live DVD: