Thank you to nxdchick714 for donating these amazing pictures! She was super close up so these look gorgeous 🙂 This is from November 21, 2002. Here is a posting on No Doubt's official site from back then:
Tom Daly, the Mayor of Anaheim, will appear on KROQ with DJ's Kevin And Bean to present the band members with keys to the City Of Anaheim. The ceremonial presentation will take part on Friday, November 21st at Disneyland during the band's appearance on 'Breakfast with Kevin and Bean' where they will be performing 5 songs and taking questions from listeners. For more information log on to www.anaheim.net (taken from: NoDoubt.com)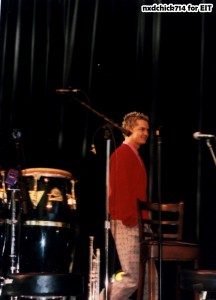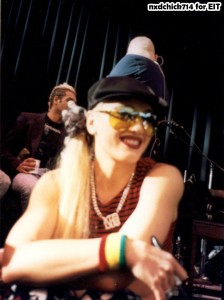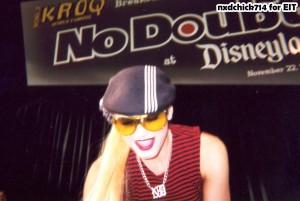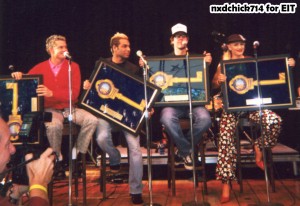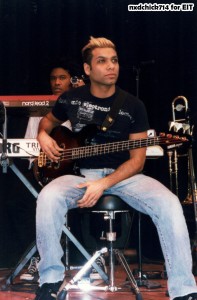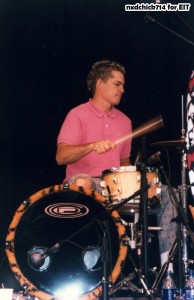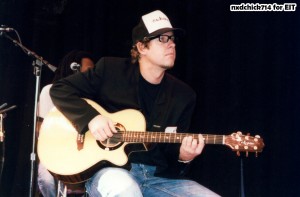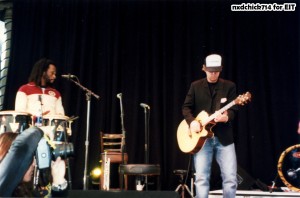 August 1, 2011 UPDATE:
nxdchick714 was nice enough to send in the newspaper clippings from this event and even transcribe it for us. She also added her tickets and wristband:
Band on the Run Rejoices in a Return to Its Roots
No Doubt, on last leg of world tour, gets keys to the hometown it mocked in lyrics.
By Kimi Yoshino
No Doubt, the Anaheim-born band that dubbed its home the "Tragic Kingdom" en route to rock stardom, Friday returned to the town they lampooned for the ultimate civic honor.
That's right, the keys to the city.
Band members received the distinction at Disneyland, no less, the same place they poked fun at in the muliplatinum album "Tragic Kingdom," which includes images of rotten oranges and lyrics mocking the Seven Dwarfs and the hallowed Main Street Electrical Parade.
They came home to the town where they spent their youth, attended high school football games and struggled to find themselves. And although they may now be a world-famous band, on Friday morning they seemed more like the kids next door.
When the band came out on stage, lead singer Gwen Stefani searched the crowd for her mother. And when Mayor Tom Daly handed over the ceremonial keys, an honor not even bestowed on Walt Disney, the band's parents and grandparents were in the audience, snapping photos like the rest of the groupies.
"It's like coming full circle," said bass player Tony Kanal. "Who would have ever thought we would be here?"
His mother, Leena Kanal, still works in the city's finance department. She ranked Friday's achievement up there with the band's first record deal. And dad Gulab Kanal, who once ushered his saxophone-playing son to jazz band practice at South Junior High in Anaheim, called it a milestone.
The band has such a connection to Anaheim that one fan joked that locals like to play "six degrees of seperation" with No Doubt because they know someone who knows someone who has some connection to the group.
Before their early morning breakfast concert, compliments of radio station KROQ and the Kevin & Bean Show, the band pondered those early days, recalling thier favorite Anaheim restaurant — MexiCasa Mexican Food ("We lived on that for years and years and years," drummer Adrian Yound said). They also mentioned the time they took sips of alcohol at Disneyland, a rite of passage of sorts among Orange County's more adventurous youth.
"I wanted to work at Disneyland," Stefani said. "I wanted to sing songs at the Disneyland Hotel….Videopolis was here. I used to come dancing here."
This visit, she didn't have to pay to get in. And if there were any sore feelings about No Doubt's digs at the Magic Kingdom, they were forgotten Friday and the band was treated like royalty.
Disney rolled out the red carpet, putting up No Doubt in a suite at the Grand Californian Hotel, with rooms overloooking California Adventure. The musicians spent Thursday night riding roller coasters.
These days, the band has moved beyond its Orange County roots, trading the Anaheim Beacon Street digs where they once recorded their aptly-titled "Beacon Street Collection" album for more glamorous environs in Los Angeles.
Still, they said Friday there's no place like home.
A fan asked them their favorite venue to perform, including the spots in Europe and Asia they hit this year as part of their Rock Steady tour, which wraps up Nov. 30 at the Arrowhead Pond in Anaheim.
"I have to say rolling into Anaheim and getting a suite at [Disney's Grand Californian] was just amazing," Stefani said. "I liked coming home."
And the city, flush with the success of its world champion Angels, isn't afraid to ride the band's success and home grown charm– even if it comes with some playful jabs. No Doubt's appearance gave Anaheim, which spouts census numbers (it's on of the county's most youthful cities) and pays homage to its youth, another opportunity to boost its image.
"Beneath the suburban veneer, this is a very, very dynamic, youthful, risk-taking place," Mayor Daly said. "Orange County has always been receptive to big dreams."