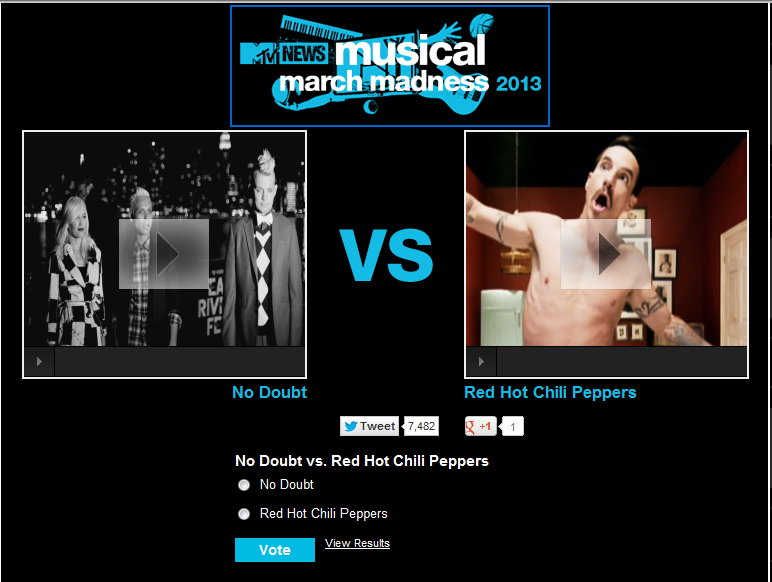 MTV's annual Musical March Madness Tournament is officially underway,and No Doubt is once again in the running!!! The band is in the West Region and up against Red Hot Chili Peppers in the first round,voting for which ends March 25 at noon ET;the title game is set for April 8. Be sure to vote for No Doubt and spread the word to any No Doubters you know,including using the hashtag #MMM on Twitter. Let's all help No Doubt advance and be crowned MTV's 2013 Musical March Madness Tournament champion!!
It's back. MTV's 2013 Musical March Madness tournament tips off today, as 64 bands begin the quest to hoist the big gold trophy and forever earn their place amongst the all-time greats.
Much like the actual NCAA tournament, we've put together a bracket bursting with top talent, and, just like previous years, there is no shortage of storylines: Will Tokio Hotel become the first band to repeat as tournament champs? Can Green Day overcome a year of turmoil to once again reign supreme? Or will 2013 be the year perennial powerhouses like Paramore or My Chemical Romance finally put it all together and claim the crown?
Well, that's all up to you … voting is now under way in all first-round Musical March Madness matchups, and polls will close on Monday, Monday, March 25, at noon ET. We'll continue on from there, until we reach the 2013 title game, set for April 8!
West Region
The Wild, Wild West is topped by Fun., who let it be known last week that they consider their competition to be "garbage" (metaphorically speaking, of course). Can they back up that talk against #16 Silversun Pickups? Maroon 5 are the surprise #2 seed in the West — the selection committee liked their RPI — and they look like locks to advance past #15 the Shins in the opening round. Tourney vets No Doubt and the Red Hot Chili Peppers will battle it out, and Blink-182 draws Pearl Jam in an opening matchup that's sure to be a barnburner. And don't forget about 2011 MMM champions Green Day, who lost a nail-biter to Tokio Hotel in last year's championship and are out for revenge. Other storylines to keep an eye on: Thirty Seconds To Mars, who take on Soundgarden, and look to finally make good on previous tournament successes, and another surprise MMM entrant, #3 Bruno Mars, who may not necessarily rock (though he can write a decent Police cover) but could be poised for a deep run if his fans have anything to say about it. Here's a breakdown of the matchups:
» #1 Fun. v. #16 Silversun Pickups
» #2 Maroon 5 v. #15 The Shins
» #3 Bruno Mars v. #14 Queens of the Stone Age
» #4 Green Day v. #13 Deftones
» #5 Postal Service v. #12 Tegan and Sara
» #6 Blink-182 v. #11 Pearl Jam
» #7 Soundgarden v. #10 Thirty Seconds To Mars
» #8 No Doubt v. #9 Red Hot Chili Peppers
MTV's Musical March Madness tournament is back! Voting is now open in all first-round matchups and polls close Monday, March 25 at noon ET, at which point we'll move on to the second round of action. All winners are determined by your votes, so if your favorite act made the cut, it'll be up to you to guide them to glory! You can spread the word on Twitter using the hashtag #MMM — but get ready, it's gonna be a war.

UPDATE: How cool is this?! No Doubt is giving fans a chance to win an exclusive photo of them in the studio! All you have to do to enter is share your MTV 2013 Musical March Madness tournament vote for the band on facebook and Twitter. Good luck!