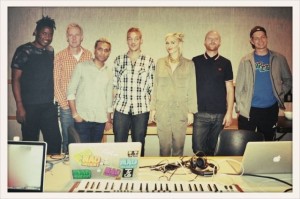 WOW,this is interesting-VH1 is reporting that No Doubt is currently in Jamaica working on the new album with Major Lazer! The band has been tweeting about their collaboration with Major Lazer,but they have not mentioned being in Jamaica. They did of course record part of the Rock Steady album in Jamaica back in 2001. We will keep you updated on any confirmation or denial we receive about this.
From VH1:
No Doubt are way past ready to finish their new album. After writing songs and recording demos on and off for nearly three years, the band committed in earnest to getting everything on tape in 2011. As of last month the band had completed a number of songs and was previewing a couple for Entertainment Weekly and Rolling Stone. Since then, they've all holed up in a studio in Jamaica, including multi-instrumentalist and touring member Gabriel McNair (far left in the above picture), for what they hope will be the home stretch of recording.
Last night they shared the above photo on Twitter, revealing that in addition to the production of Mark "Spike" Stent, they've recruited production team (and artists in their own right) Major Lazer, also known as Diplo (center, in plaid) and Switch (second from right, with the Fred Perry polo). As Major Lazer, they've produced for Beyoncé ("Run the World (Girls)") among others, and they have plenty of other credits to their names individually. Who knows what sound the duo will be bringing to the table with No Doubt? One thing's for sure: they will probably try to record more dancehall MCs for Major Lazer's sophomore effort, since they're already in Jamaica—on someone else's dime, no less. We are very excited to hear No Doubt's new album, which will, with any luck, come out later this year.
**UPDATE** Hmm,I just checked the Twitter page of Diplo,one-half of Major Lazer;yesterday he ReTweeted this Tweet from Seth Goldstein,who works for turntable.fm:
talking turntable.fm with @diplo in los angeles. he gets it in such a majorlazer way. #lovemyjob [pic]: http://4sq.com/qpT1MV
Since Diplo was apparantly in Los Angeles just yesterday,and ND tweeted about being in the studio with Major Lazer last night,it seems very unlikely No Doubt is with Major Lazer in Jamaica right now.Guess VH1 has gotten caught up in the excitement of the collaboration as much as the fans have! We apologize to everyone for any confusion.