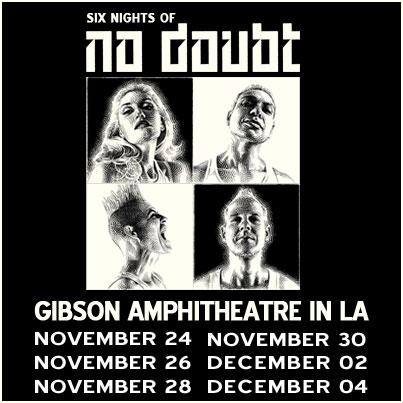 No Doubt tweeted to remind everyone that the Pre-Sale for all the 6 concerts at Gibson Amphitheatre begins today at 4:00PM Pacific. Go to this link to buy your tickets!
UPDATE: A list of Frequently Asked Questions has been posted on the official site:
We know No Doubt fans have had a lot of questions about ticketing for the upcoming shows, so we've put together a list of answers to frequently asked questions.  Please read these FAQs below carefully and return to this page for future updates as additional questions are addressed.
When I was selecting tickets, if I refreshed the page, better tickets came up. Was that a malfunction? Tickets placed in a cart are unavailable to other buyers. If you refresh/empty your cart, those tickets become available again so the constant shifting of ticket availability will cause some quality inconsistencies. Also, a declined credit card can also cause tickets to go back into the pool of available tickets.
Why did I get tickets so far back? We made up to 15% of the venue's tickets available to the ND2012 Club. So, in a 6,000+ seat venue, it's just impossible for all of those to be in the pit or first few rows.
What do you mean by 'best seats in the house' in your ND2012 Club offering?The available tickets are all in the pit or within sections 1-7 in the Orchestra section. No tickets from Section 8 or 9 are included due to their more limited viewing angles and no Loge or Mezzanine tickets are included. There are various other tickets (band tickets, radio station giveaways, VIP, etc) scattered throughout, but over 68% of these best tickets are being sold through the ND2012 Club. Row RR in the Orchestra section is the furthest row from the stage in this offering, and those are still great seats!
Is there a fee to join the ND2012 Club? The ND2012 Club was set up to break even. The cost is factored in to ND2012 CLUB ticket prices and while it covers things like the commemorative postcards and pins, the majority of the funds cover additional security and personnel to staff the club ticket pick up station and entrance.
How do I get my commemorative postcards, pins, etc.? They will be included in your ticket envelope when you pick it up on the night of show.
Do I get a package for each ticket I bought or just for each show ordered? You get a package for each show you ordered. For example, if you bought 4 tickets you will get an envelope with 4 tickets printed on custom No Doubt ticket stock, 1 commemorative postcard set and 1 pin.
Were all the pit tickets released in the pre-sales?
We made all of the pit tickets, aside from a few for band guests, VIP, and some radio contests, available to the club. It works out to about 91% of the pit tickets being sold in the pre-sale.
What is the Special Entrance Line?
Club members will pick up their tickets and enter the venue through a designated entrance.  Specific details and/or maps of the special entrance location will be posted on
nodoubt.com
before the first of the twelve dates AND emailed to the club members for that show.  Tickets are non-transferable and must be picked up the night of the show at the designated ND2012 club entrance.  You Must have ID that matches your will call name to pick up the tickets and enter the venue.
When I pick up my club tickets will I then need to get in line with the general public?
No. ND2012 Club ticket pickup and entrance to the venue happens at the same time. You only have to wait in one line. In fact, you must go straight into the venue as you pick up your tickets – you will not have the option to go back to your car, etc., so when you get in the club line, make sure you have your whole party with you and be prepared to enter the venue.
If I bought 4 ND2012 Club tickets and only 2 of us are there, can I still pick up our tickets?
No – your entire party must be with you at the time you pick up your ND2012 Club tickets as they will be scanned and checked against ID's right away as you enter the venue.
Are all of the pre-sale tickets Will Call only?
ALL ND2012 Club tickets are Will Call ONLY (see Special Entrance FAQ).
Will ND2012 Club members get to enter the venues before the general public?
Yes, club members in to the venue prior to the general public.  The exact time will be posted and emailed to club members.
What are VIP and VIP Party tickets? A small amount of tickets, scattered throughout the venue, will be packaged for fans who desire a premium concert experience. Details on these these offerings will be available via Ticketmaster.com at the time these tickets are listed for sale to the general public.
What if I already bought my tickets through the ND2012 Club and I would have preferred one of the premium packages? We will be offering fans a who bought tickets through the ND2012 Club an opportunity to upgrade their experience to the VIP or VIP Party packages.