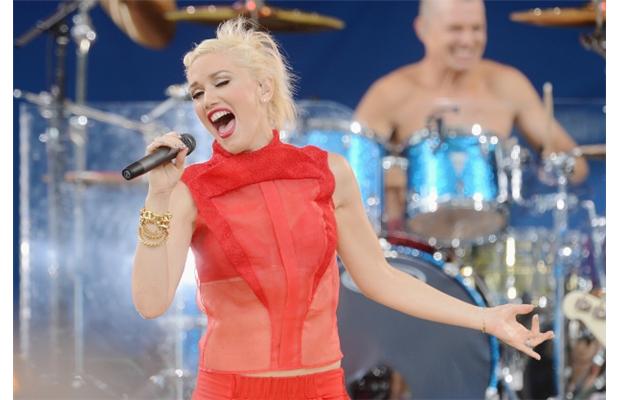 The LA Times is reporting that No Doubt will be appearing on The Ellen DeGeneres Show on September 19!! Check your local listings here to find out when The Ellen Show is airing in your area. There is information on obtaining tickets to the show's tapings here-The Ellen Show tapes at Warner Bros. Studios in Burbank, California;audience members must be 14 years of age or older. The LA Times article,which also mentions the band's upcoming performances at the NFL kickoff pre-game show and the iHeartRadio Music Festival next month,features a new quote from Tom about the album,and states that the newspaper will be having a full profile of the band soon in its Calendar section.
No Doubt will launch the 2012 I Heart Radio Festival in Las Vegas on Sept. 21 and 22, just ahead of the release of the Anaheim band's first studio album in 11 years, "Push and Shove," coming Sept. 25.
The bill features a raft of pop, rock, country, R&B, dance and hip-hop acts, also including Taylor Swift, Rihanna, Usher, Green Day, Shakira, Pitbull, Bon Jovi, Lil Wayne, Deadmau5 and Brad Paisley. That puts the rejuvenated No Doubt back amid a phalanx of contemporary pop music hitmakers slated to perform at the MGM Grand Arena.
"It's hard for me to judge, but I sense that people are genuinely interested" in what No Doubt will be putting forward with "Push and Shove," guitarist Tom Dumont told Pop & Hiss during a break in rehearsals recently for the I Heart Radio Festival and other high-profile appearances the band will be making in coming days and weeks.
Those include a live set on Sunday, Sept. 5, for the NFL kickoff game for the 2012 football season and a guest appearance on "The Ellen DeGeneres Show" on Sept. 19. The long-running ska-punk-pop-rock band also played last month on ABC-TV's "Good Morning America."
A full profile of No Doubt will be coming soon in Calendar.