UPDATE 2: Check out a cool video of Spring 2014 L.A.M.B. fashions being featured this morning,November 6, on the local San Antonio TV show "Great DAY SA" in anticipation of tomorrow night's runway show. Are any Texan L.A.M.B.ies planning on attending the show?
UPDATE: The Spring 2014 L.A.M.B. fashion show has been rescheduled for November 7 at 7 PM:
MAINSTAGE: L.A.M.B. by GWEN STEFANI S/S 2014
NOVEMBER 7 // 7:00PM
VENUE: Texas A&M – San Antonio Educational & Cultural Arts Center (formerly Museo Alameda) // 101 S. Santa Rosa
DESCRIPTION: Widely recognized for her trend-setting personal style and natural elegance, Gwen Stefani created L.A.M.B., an acronym for Love Angel Music Baby, out of her love of design and fashion. L.A.M.B. is a luxurious collection of clothing, handbags, shoes, and fragrances derived from Stefani's personal style and aesthetic.
ADMISSION: $45.00 // VIP | $30.00 // GENERAL ADMISSION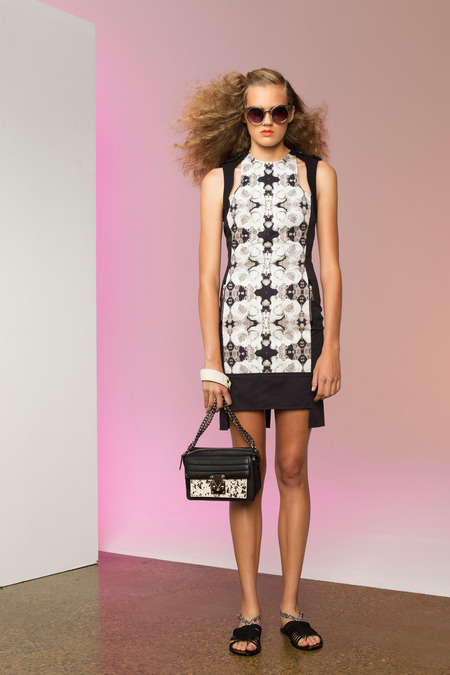 Thanks to @DearNoDoubt for the heads up,there will be a Spring 2014 L.A.M.B. runway show taking place on November 4 at the Texas A&M Educational & Cultural Arts Center in San Antonio,Texas as part of San Antonio Fashion Week. Gwen is not expected to be in attendance,but for anyone interested,tickets for the event are $30 for general admission and $45 for the VIP section and will go on sale on October 3rd. More information is available here. We of course had posted photos of the entire fabulous Spring 2014 collection here.