Thanks so much to Ri'chard for the heads up,it looks like a sketch of Spring 2012 L.A.M.B. designs and a quote from Gwen about the new collection have appeared online;the quote from Gwen seems to be from a Women's Wear Daily article-does anyone subscribe to WWD? The sketch looks amazing and it's a really interesting quote from Gwen about the inspirations for the Spring 2012 collection-we can't wait to see more when the Spring 2012 L.A.M.B. presentation occurs on September 11!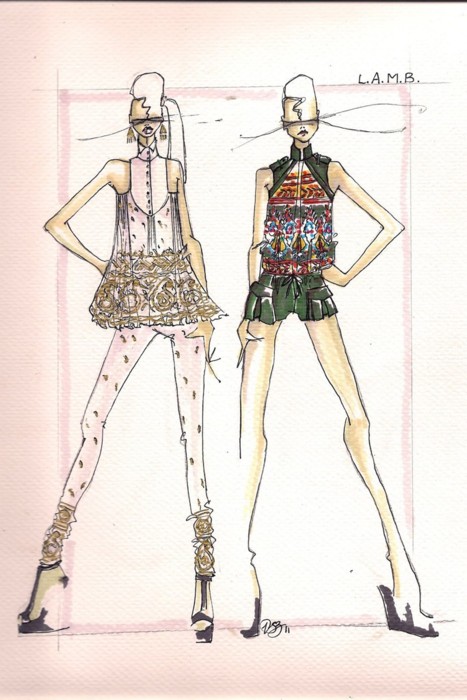 "This may be hard to imagine, but this season is a mishmash of everything I love. You could describe it as the Rat Pack going to India on the Soul Train." — Gwen Stefani, L.A.M.B.
2012 Spring Designs
UPDATE: Essie Cosmeticss will be taking part in the nail work for the models for the L.A.M.B. showing,and Maybelline will once again be doing the makeup for the show:
From DrugStoreNews:
Nail care brand Essie Cosmetics is making its mark on Mercedes-Benz Fashion Week for spring 2012 by creating exclusive backstage nail looks.
The Essie team, and founder and creative director Essie Weingarten, will lend beauty expertise throughout the week. Essie will collaborate with such designers as DKNY, DKNY AMEX, Pamela Love, L.A.M.B., Zac Posen, Carolina Herrera and Tory Burch. Essie also is working with Haven Spa to provide color inspiration for Prism, Edun, Rebecca Minkoff and Preen. Chado Ralph Rucci also will use Essie nail color in its fashion show.
"Well-manicured hands are the ultimate fashion accessory," Weingarten stated. "Whether you're inspired by what's hot now or your own personal color choices, every woman can agree: Nails are an essential form of self-expression, both on the runway and every day. We are thrilled to be a part of Mercedes Benz Fashion Week to help inspire the season's most important trend statements."
From VIEZINE:As the number one makeup brand worldwide available in 129 countries, Maybelline New York continues to be the proud Official Makeup Sponsor of Mercedes-Benz Fashion Week in New York City.
Maybelline New York, the undisputed color authority, will bring their vast beauty expertise and inspired creativity to the world's most respected fashion platform.
Maybelline New York's Global Makeup Artist, Charlotte Willer, will lead the makeup teams of their sponsored designers' shows, creating exciting looks translatable from the catwalk to the sidewalk.
Maybelline New York will partner with a selection of heavy-hitting labels as well as unexpected indie darlings including BCBGMAXAZRIA, DKNY, Vivienne Tam, Custo Barcelona, Carlos Miele, L.A.M.B. and Bibhu Mohapatra.
UPDATE 2- Gwen's New York City publicist,Laura Claps,has revealed on Twitter that she is booking a lot of celebrities to attend the L.A.M.B. show;the L.A.M.B. shows have always been star-studded affairs. Laura also said that she is still waiting to hear whether or not Gwen herself will be attending,so there is still hope!
@LauraClaps Getting a lot of celebrities coming to the L.A.M.B. presentation this season. Unfortunately also declining some but I won't name any names!
@LauraClaps @lamb83 Still waiting to hear but hopefully! RT @lamb83 Oh,wow,that sounds exciting! Is it known for sure yet whether or not Gwen will be attending the presentation?
UPDATE 3- Thanks to Laura Claps for again sharing a few tidbits of info: she just Tweeted that Gwen has some "amazing looks" in store for Spring 2012 L.A.M.B.-of course,ALL of the L.A.M.B. collections have been amazing,and we can't wait to see this one. She also Tweeted that it still not confirmed whether or not Gwen will be attending the presentation on Sunday. We would love to see Gwen receive in person the praise and recognition she so deserves for her latest L.A.M.B. collection,but it is totally understandable if she is unable to attend.
@LauraClaps Only a day and ½ until the L.A.M.B. presentation! I hear Gwen has some amazing looks in store for Spring 2012. #NYFW
Nothing has been confirmed as of yet. Still waiting to hear.