Photos of the complete Fall 2013 L.A.M.B. collection have been posted at Style.com!!! We are loving it!! Much congratulations to Gwen and her entire L.A.M.B. team on yet another fabulous collection!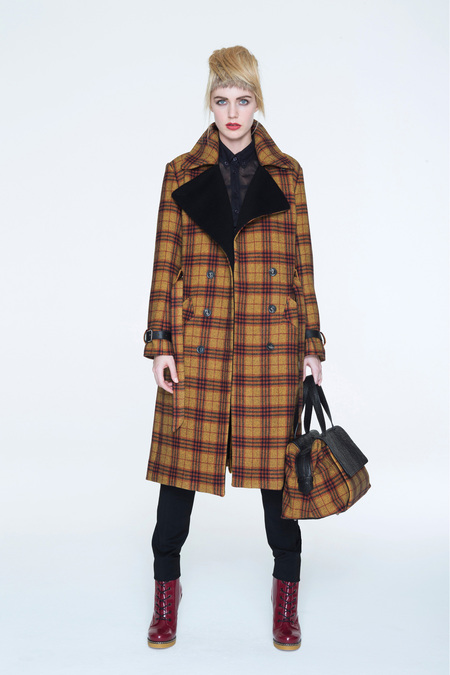 Update: Style.com has now posted its review of the collection:
The recent release of the new No Doubt album, Push and Shove, and its resulting promotional tour served as a reminder of why girls still want to emulate Gwen Stefani's personal style, and why the goal of L.A.M.B. has always been to replicate her dream closet. All of those familiar favorite motifs were in place for Fall—the Jamaican flag, punky plaids, the boy/girl mix, even a dash of military—but they were done in a relatively softer, more sophisticated way. For every item like a Vans check silk maxi dress or the camouflage cargo pants here there was also something for the customer who didn't grow up shopping at Hot Topic. A flippy leather miniskirt paired with a bubbly knit sweater worn over a button-up, for example, looked schoolgirl-chic; an army-green biker jacket shown with jacquard, wide-leg trousers was the standout outfit. Still, what stood out most (on the rack, at least) was an ultra-slim cobalt tuxedo suit styled, just like Gwen would wear it, with a rebellious button-up and skinny black tie. It wasn't necessarily what you'd want to put on for a big interview, but it would definitely do a convincing job onstage.