Thanks to Kenda for the heads up! L.A.M.B. on Facebook posted this about Gwen's pants from the Settle Down video: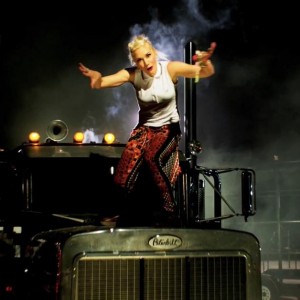 We sat down with Paula Bradley, our Design Director for L.A.M.B. and she shared with us how Gwen's trousers in the new No Doubt "Settle Down" video came about.

"Her pants were inspired by a conversation Gwen and I had months before the video. She said she wanted to be back to her roots. More "UNDONE". We were talking about the concept for the video and Gwen said she wanted to use Indian fabric! and other mixes. I thought this was fabulous . . . We love the mirrors . . . So I went looking for all types of vintage Indian mirrored fabric, belts, anything i could find that had the mirrors hand embroidered on them. We bought a pile of them and then began to lay them out like a jigsaw puzzle. Only sections of the costume have mirrors. No two pieces are the same. When I first showed Gwen, she felt it was a little too "Hippy" and not No Doubt enough. So then came the checkerboard!!

The idea of the pants was fantastic, and making them was quite a journey. Thank God for Gwen's trust and patience. In the end I think they were quite beautiful, and performed wonderfully. There are hours of work into something like this and you have to really be lucky enough to work with someone truly amazing to get the opportunity. We almost lost these pants . . . . . . . . . But Gwen believed in everyone and in the end the pants just got better and better."

Paula Bradley
design director L.A.M.B.