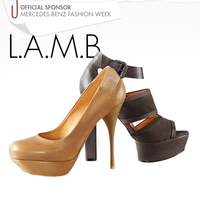 Heads up! In honor once again of Mercedes-Benz New York Fashion Week,ideeli is having a big L.A.M.B. sale on the same day as the L.A.M.B. Fall 2012 fashion presentation this Saturday,February 11! The sale starts at 12 PM EST and will feature shoes and handbags. If you need an invite link,HERE is one. Hope all you L.A.M.B.ies are able to pick up some items! It also looks like ideeli will be giving everyone an inside scoop on the L.A.M.B. showing tonight:
When Gwen Stefani burst onto the scene in 1995, we never imagined the No Doubt singer would become one of our favorite designers. But in 2004, Gwen launched L.A.M.B.—a super funky collection that caters to the avant-garde dresser in all of us—and we've been hooked on her clothing, shoes, bags, watches and fragrances ever since. L.A.M.B. (an acronym for Gwen's first solo album, Love.Angel.Music.Baby), is a mash-up of her kitschy sense of style. It's an eclectic blend of Hollywood glam and street chic—with a healthy dose of South American and Asian influence.
In 2005, the brand launched the Japanese-inspired Harajuku Lovers—a line inspired by Tokyo's over-the-top fashion district—with stand-out lingerie, leather goods, and accessories full of girly touches. These days, L.A.M.B. is an undisputed powerhouse and not surprisingly, a celeb fave. Not to mention a certified Mercedes-Benz Fashion Week crowd-pleaser. With an uncanny ability to be both modern and futuristic, L.A.M.B. always delivers unexpected twists. We can't wait to see what's in store this season.
Want insider access to today's Fall 2012 L.A.M.B. show? Follow along with us on Twitter for the play by play.