Thanks so much to our friends at Beacon Street Online and Shana for the heads up and info,a new 'Harajuku Mini' Harajuku Lovers accessories line has launched exclusively at Target stores! The line includes folders,binders,notebooks and other stationery items,and the print features all the Girls and has a super-adorable "Nerd Alert!" theme.(And it's so precious how a digital watch cartoon on some of the items says "8 21 '08"-Zuma's birthday!) There is also apparantly a line of 'Harajuku Mini' backpacks and messenger bags coming soon to Target,probably just in time for back-to-school!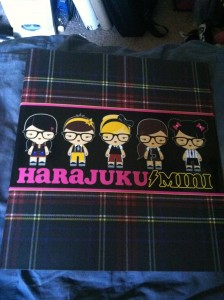 Prices for the 'Harajuku Mini' items:
5 folders with each girl: $1.00 each
2 3-ring binders (one with G on it, and one with all of the girls on it together): $5.00
1 composition notebook with Music on it: $2.50
1 notebook with G on it: $2.50
**UPDATE** Thanks so much to @gemineye523,here's a photo of the super-kawaii 'Harajuku Mini' backpack(which retails for $24.99) and photo of the 'G' notebook! She shared more photos of the items HERE.