Sunday, 20 May 2012, 13:21 | Category : Harajuku Mini | Posted By: Rosie
We had mentioned how Gwen's Harajuku Mini line was teaming up with Target to release special merchandise in honor of Gay Pride Month and now,thanks again to GwenStefaniFan for letting us know,two awesome men's Harajuku Mini PRIDE Love is Love t-shirts are available npw through June 30 at Target.com! The shirts are available in navy and grey,and are priced at $12.99. Target will donate 100% of PRIDE merchandise sales to Family Equality Council,an international organization offering informational packets and resources for gay and lesbian families. We will keep you updated if any other Harajuku Mini Love is Love items are released.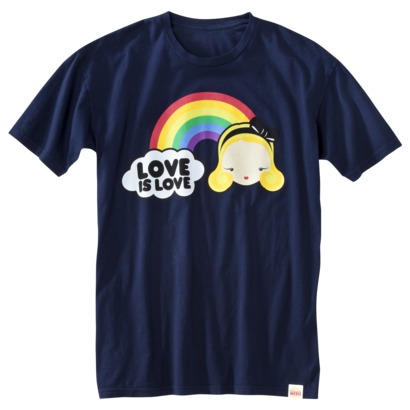 Como haviamos mencionado, a linha da Gwen, Harajuku Mini, em parceria com a Target, lançou camisetas em homenagem ao Mês do Orgulho Gaye elas já estão disponiveis para compra até o dia 30 de Junho na Target.com! As camisetas estão disponíveis nas cores marinho e cinza e custam 12.99 dólares. A Target irá doar 100% do dinheiro para a Family Equality Council. uma organização internacional que oferece informações para as famílias de pessoas gays e lésbicas.