Thanks to former MTV VJ Dominick DeLuca for sharing a photo of himself with Tony last night at the Musink 2014 Tattoo & Music Festival at The OC Fair and Event Center. DeLuca also shared the history of his friendship with Tony, saying that they first met at a Shelter show in 1994.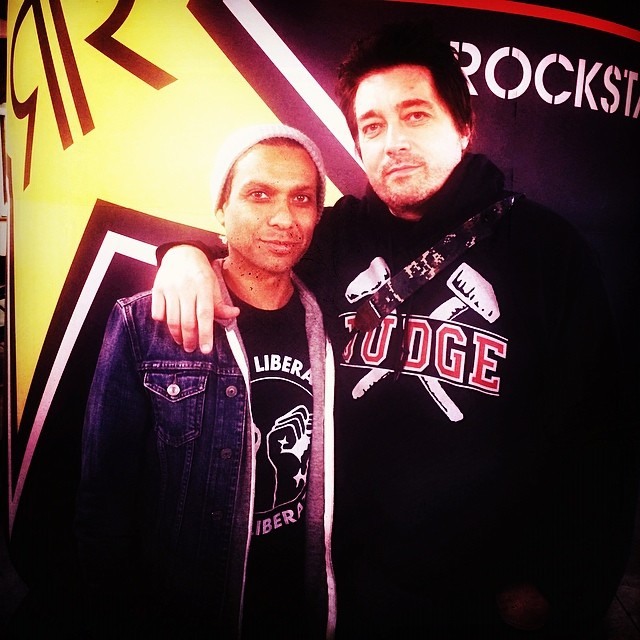 First time I met Tony.. It was 94 at a Shelter show. At that time I was a VJ on MTV and Tony had this up and coming band that was starting to blow up called No Doubt. We hit it off due to the fact that we LOVED NYHC and punk …and as time went on he went on to become in one of the biggest bands of our time yet never forgot who he was and more importantly who I was. It was the same Tony I met at a show at CBGB's for a Shelter show that was playing sold out shows at the Staples Center and so on … It's been 20+ years since that day and we are still the best of friends tho we don't go out every week running amok through Hollywood nightlife .. and it was awesome catching up with him to see more longtime friends ( Judge Strife Gorilla Biscuits H2O ) play Musink last night. Great times. Great friends.
Last night Tony had shared a photo from the festival where he saw his friend Toby Morse perform with his band, H2O, as well as a clip of Gorilla Biscuits performing at the festival.
So stoked to see my friends @tobymorse and #H2O kill it tonight @ Musink 2014 – Tattoo & Music Festival http://t.co/qYfKLGb1yY

— Tony Kanal (@Tonykanal) March 24, 2014
The first time I saw #GorillaBiscuits was when they played with #INSTED @theuf1 in 1990 at the Country… http://t.co/wRoElKbdHm

— Tony Kanal (@Tonykanal) March 24, 2014
Adrian had also shared that he attended the festival over the weekend to see bands like The Vandals and Descendants. Hope Tony and Adrian had a blast!!
I went last night to c the vandals and descendents…was great Still to come, transplants, gorilla biscuits, h2o and more