Just to remind everyone,Tom and Grover Jackson of GJ2 Guitars will be unveiling the Zora guitar line today,January 23,at the NAMM Show at the Anaheim Convention Center during the convention's Media Preview event;the presentation will be livestreamed on NAMM's website from 11:40 to 11:50 AM PST. Again,since today is a "pre-show" day,NAMM attendees will not have access to the show floor but we hope a lot of fans will be able to watch the webcast and we wish Tom and GJ2 Guitars all the best unveiling the awesome Zora line!!! As we've mentioned,Tom will also be at the NAMM Show on January 25 between 11 AM and noon in Hall C, Booth #4296 to help GJ2 Guitars launch the line. (Once again,attendance at NAMM trade shows is restricted to owners, suppliers, employees, endorsed artists and visitors of NAMM Member companies-it is not open to the public.) Tom had tweeted last night that his NAMM Show appearance may be filmed for a future webisode.
UPDATE: No Doubt shared a pic of Tom doing interviews at #namm2013! Unfortunately,the live NAMM webcast kept freezing,but GJ2 GUITARS said that they may upload a video of it later,and again Tom said footage from it may be in an upcoming webisode.
Orange Counties own Tom Dumont from @nodoubt and @gj2guitars live on mamm.org now! twitter.com/NAMMShow/statu…

— NAMMShow (@NAMMShow) January 23, 2013
Thanks to Kevin for sharing this pic!
Kevin Conklin Tom Dumont, guitarist in @NoDoubt, playing the new GJ2 models at @NAMMShow; he told me "I need some tequila" pic.twitter.com/gMSkJrKJ
No Doubt shared another pic of Tom and Grover:
Tom Dumont (No Doubt) talking Jackson Guitars. twitter.com/chuckr77/statu…

— Chuck Reynolds (@chuckr77) January 23, 2013
Thanks Melinda!
Thanks GJ2 GUITARS: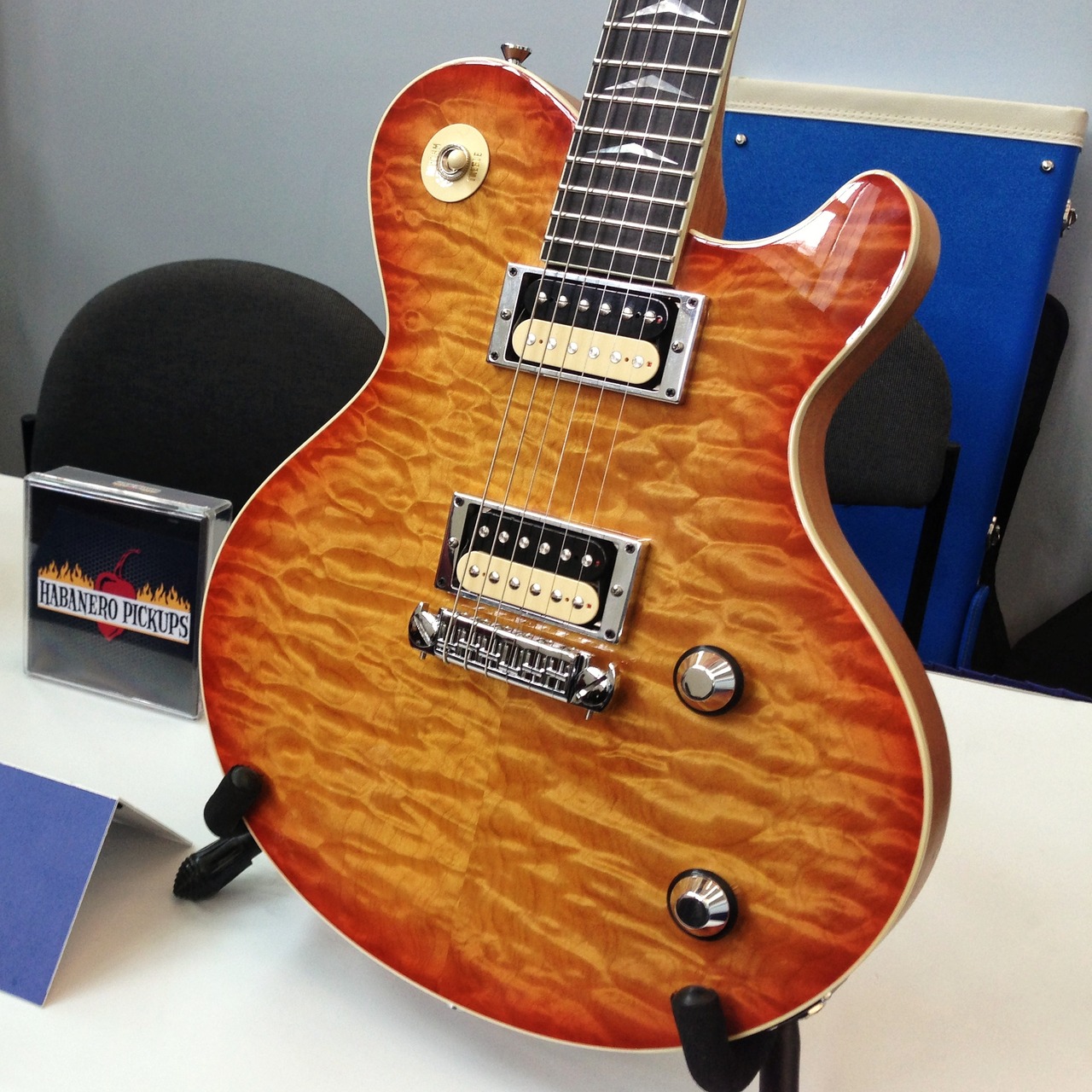 .@tomdumontnd and @soundwavesla admiring #Zora at @nammshow #NAMM2013 GJ2 booth 4296 twitpic.com/bxqf36

— GJ2 Guitars (@GJ2Guitars) January 24, 2013
Thanks Mitch Devine:
iGuitar posted an article with a couple of more photos from the presentation.
UPDATE 2: The OC Register posted an article and video about today's NAMM Media Preview event featuring Tom:
The world-renowned NAMM Show at the Anaheim Convention Center doesn't begin until Thursday, and its most-anticipated moments (like the Elton John-led event for Yamaha's 125th anniversary inside Disney California Adventure) won't happen until the weekend.
But a media preview on Wednesday provided a chance to get an early look at the new music-related products on display Jan. 24-27 at the National Association of Music Merchants' annual trade show. NAMM president and CEO Joe Lamond said this year's gathering is expected to attract more than 100,000 people for the first time.
No Doubt guitarist Tom Dumont also turned up to share a few licks on behalf of Laguna Hills guitar manufacturer GJ2, co-founded by Grover Jackson. "I was a rock music lover," Dumont mentioned, recalling the sound and feel of Jackson guitars back in the day. "I get the same feeling today as I got all those years ago."
Thanks to GJ2 GUITARS and Tour Bus Live for sharing even more photos from yesterday's event!